Related Links
Recommended Links

Site News
CD Review
Cyril Rootham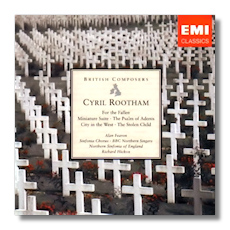 British Composer Series
The Stolen Child
Miniature Suite *
City in the West
The Psalm of Adonis
For the Fallen
* Alan Fearon, piano
Sinfonia Chorus
BBC Northern Singers
Northern Sinfonia of England/Richard Hickox
EMI British Composers 505923-2 56m DDD
Before listening to this disc, I was not aware of the name of Cyril Rootham, let alone his music. However I'm happy to report that I was pleasantly surprised by the originality and striking melodic gifts with which this composer was imbued. The major work on disc, "For the Fallen" is an epic choral piece using the text of Laurence Binyon's famous poem as its words and the almost Elgarian sweep of the music is very moving indeed.
Rootham was also a dab hand at orchestration as can be evinced from the Miniature Suite which is a delightful work, full of exquisite touches and a fine sense of breadth and proportion. I also enjoyed the shorter choral work, "The Stolen Child" whilst the tone poem, "The Psalm of Adonis" is also very colourful and atmospheric.
Fine recordings and the inspired direction of Richard Hickox make this a must for those interested in the off the way highways and byways of British music.
Copyright © 2008, Gerald Fenech