CD Review
Giya Kancheli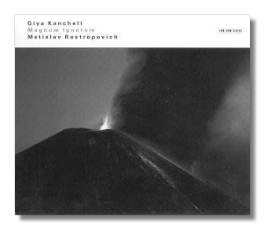 Mstislav Rostropovich, cello
Royal Flanders Philharmonic Orchestra/Jansug Kakhidze
ECM New Series 1669 462713-2 DDD 50:38
The latest Kancheli release from ECM New Series, like its predecessors, poses more questions than it answers. This Georgian-born composer makes few brush-strokes on the canvas, but if his music is spare, it is never arid; how does he do it? Although he has been described as a "spiritual Minimalist," Kancheli's music is quite unlike the busy, kinetic minimalism of Glass and Reich. Similarly, although he and Cage (or Feldman) probably would agree on the importance of a single note or an isolated sound that is perfectly placed and completely heard, Kancheli seems to be less interested in experimenting with forms and sounds than with exploring the depth of human emotions.
Similarly, although Kancheli's music often is despairing, it is never completely without hope; where does this hope come from? Simi is subtitled "Joyless thoughts for violoncello and orchestra," a description that would provoke knowing snickers if it had been written by many other composers. With Kancheli, we feel it, and we believe it. In the annotations to this CD, Rostropovich writes of the composer, "His natural element is the deepest sorrow." Of himself, Kancheli comments that sometimes he has "the impression that everything I write is part of a single work I began in my youth, one that will only be complete when I finally depart from this life [… ].The flow of thoughts in this one work the length of a lifetime corresponds to a mental state which continually changes while remaining essentially the same. Grief, regret, the repudiation of violence. Hope predominates over happiness and joy." Is this hope the hope of the life-long exile, the blind faith that a haven will be found when, to take the cliché literally, all has been said and done? Hope appears near the end of Simi, but it is a wavering light on a wintry light, and no sooner does it appear than it is contradicted. The elements one has come to expect from Kancheli are present in Simi: slow tempos, spare textures, obsessively repeated figures, tense quiet, violent outbursts, extreme thoughtfulness. This 28-minute work was commissioned by the orchestra that plays it here.
The organizers of a music festival once asked Kancheli to write a work containing Georgian folk tunes. Kancheli refused, unwilling to "interfere" with the work of another composer. (After all, as he points out, "folk music" is composed by a person, not by "folk.") Still, the organizers persisted, and Kancheli's response was Magnum Ignotum. Here, Kancheli overcomes (?) his objections by inserting folk music unchanged into his work via pre-recorded tape. The taped fragments are a gospel text, a polyphonic Gurian song, and a Georgian hymn sung by the Rustavi Choir. The instrumental ensemble is comprised of flute, two oboes, two clarinets, two bassoons, two French horns, and a double-bass. Magnum Ignotum sounds like an archaeological dig; first the outlines of different cultures appear under the dirt, and then they are revealed to make way for the next discovery. Again, the music is very quiet, slow, and sadly thoughtful. There is not a note that is unconsidered, or that fails to make an impact. It is weighted down with history.
The performances show exceptional concentration, and the engineering is ideal. There are booklet notes by the composer, and comments by Rostropovich. However, as is often the case with ECM New Series releases, basic information about the compositions and their history is omitted in favor of philosophical statements.
Copyright © 2001, Raymond Tuttle