CD Review
Giya Kancheli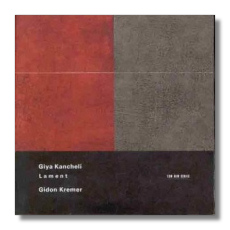 Lament
Gidon Kremer, violin
Maacha Deubner, soprano
Tbilisi Symphony Orchestra/Jansug Kakhidze
ECM New Series 1656 (465138-2)
Not since Górecki's Third Symphony ("Symphony of Sorrowful Songs") have I heard music so hauntingly sad. Subtitled "Music of mourning in memory of Luigi Nono," "Lament" probes the edges and innards of grief, with a generous node to late Romanticism. ("Music, like life itself, is inconceivable without romanticism," says Kancheli.) I've had the CD for nearly three months, trying to figure out why it's so compelling. As Alfred Schnittke said, "Inevitably we return to [Kancheli's music] to grasp what we failed to grasp the first time, to hear what we failed to hear the first time."
Like his earlier work "Caris Mere" (also featuring the soprano Maacha Deubner), Lament's structure is minimalist, like the way its pianissimo opening lulls the listener into a dirge-like trance. But unlike the shorter work, "Lament" guides us through multiple stages of grief. Kremer's violin and Deubner's voice are distant at first, almost detached, like the period before the shock (of death, I assume) has set in. The words of Hans Sahl's stark poem take us through the pianissimo moments: "Quite slowly I am walking out of time/into a future farther than any star." But when harsh triplets rain down like blows, the tenor of the piece changes. Unease and confusion quiver in the strings. Sometimes the music erupts in scalar torrents, subsiding only to erupt again. It doesn't matter that there is little logic or development in this piece. Thematically, it is a collection of random melodic elements tied to the soprano's elegy. At one point the music tenses like hands over a weeping face, then the brass fires a barrage of identical notes. It seems as if the piece is going to spring into action, like the first Allegretto of Shostakovich's Eighth Symphony. But it doesn't. It halts and Kremer's mournful violin joins Deubner again, winding through the elusive halls of grief.
While this is not the piece to play if, say, you're hospitalized, you may find it cathartic in an odd sort of way. Sometimes its long lines and placid tempos are ideal for headphone listening at midnight in the dark. In its vocal sections, Kancheli's debt to medieval monophony is clear, however tempered with modernism. Most of the time the music is soothing, but it also contains those sudden jarring figures. Its direction is so unpredictable, you shouldn't expect a general soporific. As with Mahler's Ninth Symphony, the ending mysteriously trails off, implying there is no end to lamentation. It comes and goes, but never leaves us.
Like many ECM discs, the sound is excellent and the playing first rate, although the piece is short – forty-two minutes. The program notes pontificated lengthily about Kancheli's attraction to the poetry of Hans Sahl. Too bad they provide no information about Luigi Nono and why Kancheli laments his loss. (An Italian composer who died in 1990, Nono blended humanism with sophisticated avant-garde techniques.)
Copyright © 2001, Peter Bates