DVD Review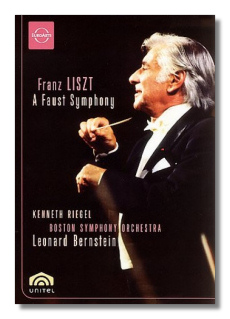 A Faust Symphony
Kenneth Riegel, tenor
Tanglewood Festival Chorus
Boston Symphony Orchestra/Leonard Bernstein
EuroArts DVD 2072078 83min Dolby Digital DTS Full Screen
Bernstein recorded Liszt's Faust Symphony twice during the LP era – once in 1960 with the New York Philharmonic, and again in 1976 with the Boston Symphony Orchestra. Both of these have been reissued: the former in Sony Classical's "Royal Edition," and the latter as part of the Deutsche Grammophon "Originals" series. The Boston version is one of my favorite classical recordings, although as time goes on, I find that I enjoy Solti's recording of this work (on Decca) even more.
Now we have the chance not just to hear Lenny's Faust Symphony, but to see it as well. This live performance was recorded on July 26, 1976 in Symphony Hall. DG's recording comes from the same period, but not from the same concert – at least not entirely, although Günter Hermanns, sound engineer for DG, has stated that takes from this live concert may have been incorporated into the "studio" recording.
At any rate, DG's audio-only recording and this EuroArts DVD are different animals. The DG is highly polished – an example of perfectionism, really, both in the execution, and in the quality of the sound. (We do get some Lenny-ish foot-stomps, however.) EuroArts gives us an actual performance, warts and all. The warts, admittedly, are not that ugly, but nevertheless, there are moments where the ensemble goes awry and where an orchestral musician has difficulties, or cannot be adequately heard. None of this is worse than what one would expect from most live performances, even those coming from a group as famous as the Boston Symphony Orchestra. Riegel also has a bad moment – more accurately, a bad high note – in his solo in the third movement. Tempos are a little slower on the DVD than they are on the audio-only recording. (The CD's playing time is just under 77 minutes. Exactly 1:27 of the DVD's playing time, however, is devoted to applause welcoming Bernstein to the podium, and to the closing credits.)
On the DVD, Bernstein looks healthy and involved. One can't tell from looking at him that this is a man who is going through a painful break-up with his wife of 25 years. All the Bernstein trademarks are here, from sweeping baton-work and a panoply of facial expressions to leaping up and down on the podium. This is an exciting and yet thoughtful live performance, but my feeling is that it is just a trifle shallow next to what DG subsequently released – a demonstration of how a canny production and engineering team can make a difference.
The colors look metallic and washed-out – ageing of the source materials, or just the lighting in Symphony Hall? – and the image is slightly grainy. The sound has been recorded at a low level, so you will have to turn up the volume appreciably to get good results. Even then, DG's recording wins hands-down as a sonic experience. Humphrey Burton's direction places most of the attention on Bernstein, although we get to see the orchestral musicians too, and not always flatteringly. (Among the younger members of the orchestra and the chorus, there are several echt -1970s hairstyles to enjoy.) For Goethe's ridiculous text (sorry!) in the final movement, there even are English subtitles, if one wants to read them. The image is full-screen; the sound is in the unusual three formats.
All in all, I think that DG's audio-only version presents a better Faust Symphony. Still, if you love that recording as much as I do, you'll probably be interested to see it… or a reasonable facsimile thereof.
Copyright © 2007, Raymond Tuttle