DVD Review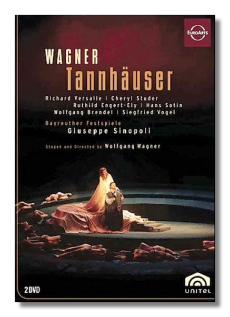 Tannhäuser
Richard Versalle (Tannhäuser)
Cheryl Studer (Elisabeth)
Ruthild Engert-Ely (Venus)
Wolfgang Brendel (Wolfram)
Hans Sotin (Landgraf)
William Pell (Walther)
Siegfried Vogel (Biterolf)
Clemens Bieber (Heinrich)
Sándor Sólyom-Nagy (Reinmar)
Joy Robinson (A young shepherd)
Orchestra & Chorus of the Bayreuth Festival/Giuseppe Sinopoli
Stage Director - Wolfgang Wagner
Recorded live at the Bayreuth Festival, June 23-28, 1989
EuroArts DVD 2072008 LPCM Stereo Dolby Digital DTS Anamorphic Widescreen
I expect that many people don't care about minnesingers or song contests anymore, or does the popularity of "American Idol" prove me wrong? Tannhäuser continues to mean something to modern audiences, however, and that is because it compellingly dramatizes the conflict between the purity of the soul and the "dirty" desires of the flesh. It also reminds us that God may judge very differently than those who believe that they are doing His will. Most of us have paid our own little visit to the Venusberg, and that is why Tannhäuser's story still grips us today.
Tannhäuser goes on a pilgrimage to Rome to seek forgiveness, but Wagnerians have their own "holy city," and that is Bayreuth. That is where this production was taped in June 1989, although this particular staging comes from 1985. At that time, Gabriela BeÁa…ková and René Kollo were slated for the lead roles, although he cancelled less than an hour before opening night, and she never even showed up for rehearsals! They were replaced by two Americans, Cheryl Studer and Richard Versalle, and both made such positive impressions that they were invited back for subsequent revivals, which is why they are on this DVD.
Versalle is most famous, unfortunately, for being only the second singer to die on stage while singing at the Metropolitan Opera. (The first was Leonard Warren.) Far less famous than Kollo, he's actually a very good Tannhäuser, although he is rather bearish of appearance. His trumpeting timbre is metallic and very penetrating, and he has no difficulty being heard, no matter what is going on around him. His is not a honeyed voice, by any means, but he emerges at the end of the opera not just unscathed, but with a badge of honor. As an actor, he's better with his voice than with his body.
Apart from a couple moments of questionable pitch, Studer is a glorious Elisabeth. She also has a brilliant, penetrating tone, although it falls on the ear more gratefully than Versalle's, and they sound particularly good together in Act Two. Her "Dich, teure Halle" is so exciting, you want to write home about it. She's a better actor than Versalle, and while Wieland Wagner's production doesn't give her much to do – it doesn't give anyone much to do – Studer still makes a real character out of Elisabeth.
Engert-Ely's Venus is smokier of timbre, so there is a nice contrast between her and Studer. I don't know if the goddess of Love is supposed to be a likeable character, but Engert-Ely did make me feel bad for Venus when Tannhäuser turned his back on her not once but twice. (Minnesingers are all alike!) As Wolfram, Brendel sings and acts sympathetically, and his "Evening Star" aria would stop the show, were show-stopping allowed at Bayreuth! Sotin's classic Landgraf is sonorously sung and authoritatively acted, and the other knights of the Wartburg make uniformly good impressions. Joy Robinson's Shepherd is appropriately boyish in sound.
Although Sinopoli's tempos are slow, he doesn't hold the action back, and he coaxes glorious work not just out of the orchestra, but also from the chorus – Bayreuth's great glory. There's a big cut in the overture and Venusberg ballet, however. In the case of the latter, perhaps it's alright, because the members of the Györ Ballet prance around in spandex and big hair, 1980s style. (The costumes in this production are not especially attractive.)
Brian Large's excellent direction puts the cameras where you want them to be, most of the time, and there is a nice blend of close-up detail and full-stage panoramas. (The hammy close-up on Versalle's hand as he comes to the climax of the Rome Narrative just looks silly, though.) The full-screen image is clear and clean, and the sound (in the three usual formats) is wonderful, as long as you turn it up. The English subtitles are serviceable, although they are of the "my heart is palpitating wildly" type.
In short, this is a good, traditional Tannhäuser which embarrasses none of the big names, and which gives Versalle something for which to be remembered, other than his spectacular demise, which someone on the Internet actually described as "hilarious." How insensitive!
Copyright © 2007, Raymond Tuttle