DVD Review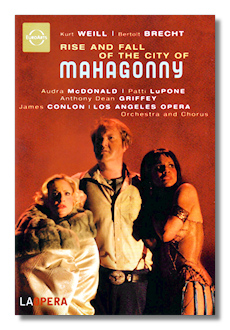 Rise and Fall of the City of Mahagonny
Audra McDonald (Jenny)
Patti LuPone (Leocadia Begbick)
Anthony Dean Griffey (Jimmy)
Robert Wörle (Fatty the Bookkeeper)
Donnie Ray Albert (Trinity Moses)
John Easterlin (Jack O'Brien)
Mel Ulrich (Bank Account Bill)
Steven Humes (Alaska Wolf Joe)
Los Angeles Opera Orchestra and Chorus/James Conlon
EuroArts DVD 2056258 155:00 Dolby Digital DTS Widescreen Anamorphic
In March 2007, I'm sure the best show in Los Angeles was this one. Imagine: Patti LuPone and Audra McDonald on the same stage, and singing opera!
Actually, as conductor James Conlon discusses in the 22-minute interview that is part of this DVD, Rise and Fall of the City of Mahagonny inhabits a triangular space whose vertices are defined by traditional opera, traditional musical theater, and Brechtian theater. Some productions lean towards one more than the others. This one does a pretty good job of staying in the middle.
The production is by John Doyle, who recently worked on Broadway (with LuPone) to restage Stephen Sondheim's Sweeney Todd. Doyle created a minimalist production of Todd in which the characters on stage also played instruments. (Unpredictably, LuPone played the tuba!) Doyle takes a similarly uncluttered approach here, usually making do with little more than a few chairs. When something big appears on stage – for example a giant television monitor for Jimmy's act III trial – it makes an impact. Doyle makes no attempt to create a 1920s feel here. Instead, he updates Mahagonny, and looks for ways in which it might be relevant to today's audiences. The opera opens with Jenny carrying the folded banner of Mahagonny, but it ends, after Jimmy's execution, with the main characters being presented with a folded American flag, as it Jimmy were perhaps a soldier returning from Iraq or Afghanistan. Mahagonny isn't always the most focused opera. Sometimes it feels as if Weill and Brecht are simply kvetching about the how the world and the people in it are not very good. For what it's worth, Doyle's production mirrors that air of non-specific aggrievement with a lot of things.
McDonald and LuPone are sensational. However, Anthony Dean Griffey really turned my head with his portrayal of Jimmy. Here's a Peter Grimes who could be just as comfortable on Broadway, if he wanted to be. His voice is a large one, but he is in complete control of it. His tone is masculine and free, his diction is almost perfect, and his stage presence is considerable. The opening of act III, as Jimmy is waiting to be executed, is heart-stopping in its pathos. Griffey's frame is as large as his voice, yet there's a boyish quality that works beautifully in this role. He also taps into the character's darker emotions, though, and so Griffey does full justice to a remarkably complicated character.
Audra McDonald's Jenny is no casualty of life, in the style of Teresa Stratas, but a gorgeous young woman unafraid of showing off her body, and playing every situation to her advantage. She sings like an angel, looks like a model out of Playboy, and when push comes to the shove, behaves like a devil. As Leocadia Begbick, Patti LuPone creates another larger-than-life figure, just as she did with Evita and Norma Desmond. Like Jenny, she is an opportunist. Chewing gum and rolling her eyes, though, she is a somewhat comical figure, or at least a grotesque one, and that works well in the context of this production. Some of Weill's writing taxes her, particularly when it takes her into the higher registers of her voice, but she doesn't spare herself. I wonder what she sounded like at the end of the run?
The smaller roles are excellently cast. Robert Wörle's German accent reminds one of Mahagonny's origins, and he is colorful as Fatty. Donnie Ray Albert's Trinity Moses is menacing and very impressively sung. Jimmy's Alaskan buddies are memorably good too, particularly John Easterlin, whose bright tenor voice is put to good use as Jack. I was sad to see him eat himself to death!
Conductor James Conlon does a fine job with the score's acerbic rhythms and color. When given the chance to become sentimental – the Alabama Song, or what once was "Ach bedenken sie, Herr Jakob Schmidt" – Conlon resists the temptation, yielding just enough in the moment for the sake of contrast. The orchestra plays idiomatically, and the chorus is motivated, adding much to the show.
This production uses a fine English translation by Michael Feingold. Most of the time I can understand what is being sung, although it gets difficult when several characters are singing. Regrettably, there are no English subtitles, so if you get stuck, I guess you can read the German ones instead! (I didn't check to see if they are Brecht's original text.) The sound and picture (widescreen) are excellent, and the no-frills interview with Conlon is worth watching at least once, prior to watching the production itself.
Copyright © 2008, Ray Tuttle