Related Links
Recommended Links

Site News
DVD Review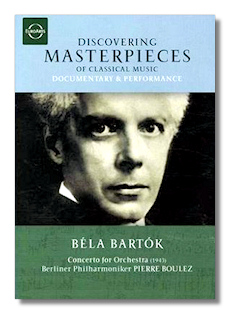 Concerto for Orchestra
Discovering Masterpieces of Classical Music - Documentary & Performance
Berlin Philharmonic Orchestra/Pierre Boulez
EuroArts DVD 2056098 68min Dolby DTS Full Screen
This disc, part of a series called "Discovering the Masterpieces of Classical Music," carries out a good idea. Coupled with a live performance of the featured work, there is a 28-minute documentary about the composer and the music. The booklet also contains an essay about the music and the performers, a time line of what was going on in the world and in the arts in the ten years before and after the first performance (1943), and a short glossary of the some of the terms used in the documentary.
There's no doubting that conductor Pierre Boulez knows his way around this work. This is a satisfying performance in every way, unless one is asking for the last degree of excitement and spontaneity. (Boulez has worked everything out ahead of time.) The Berlin Philharmonic plays the music with consummate polish, if without the richness it had during the Karajan era. If there's a reservation to be had about the performance, it concerns the venue. Lisbon's Mosteiro dos Jéronimos (Jerónimos Monastery) is an astonishingly beautiful building, inside and out, but it's not an ideal location for a symphony orchestra. As the Berlin Philharmonic plays the opening bars of the Bartók, the camera tracks upwards toward the ceiling of the building. That's where the sound is going. Then the sound comes back down again, and the entire process probably takes something like ten seconds. In other words, to describe the sonics as "cavernous" is probably an understatement.
The documentary goes into no great intellectual depths about Bartók or his Concerto for Orchestra, but there are lots of interesting period photographs and film footage to look at. (Who knew that the composer was such a looker when he was a young man?) The voice-over quickly cuts between discussing the music's nuts-and-bolts, and discussing Bartók's life in the United States, suggesting that the documentary was designed for viewers with short attention spans. Still, it is entertaining, and I learned something, so I am not complaining too much.
Other titles in the "Discovering Masterpieces of Classical Music" series include Dvořák's "New World" Symphony, Mendelssohn's Violin Concerto, and Mozart's "Jupiter" Symphony.
Copyright © 2008, Raymond Tuttle