DVD Review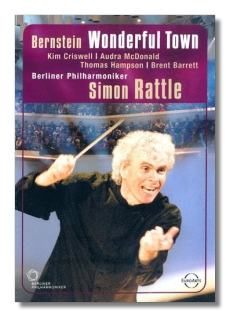 Wonderful Town
Kim Criswell – Ruth Sherwood, Violet
Audra McDonald – Eileen Sherwood
Thomas Hampson – Robert Baker
Brent Barrett – Wreck, Guide, First Editor, et. Al.
Karl Daymond – Second Editor, Chick Clark
European Voices
Berlin Philharmonic Orchestra/Simon Rattle
Candace Allen – Choreography
Berlin Philharmonic's New Year's Concert 2002 (December 30-31)
EuroArts DVD 2052298 LPCM Stereo Dolby Digital DTS Anamorphic Widescreen
This DVD (which both sounds and looks great) is taken from live performances on 30 and 31 December 2002. I give credit to Sir Simon for making unexpected choices, but nevertheless, Bernstein's Wonderful Town seems like one of the least likely American musicals to be transplanted into Berlin's Philharmonie. Not that it's a bad show. Not at all. In fact, it contains some of Bernstein's best tunes ("A Little Bit in Love" and "It's Love," most of all), and very clever lyrics by Betty Comden and Adolph Green. However, it's not the least bit operatic in its aspirations. It also feels a little dated now. Even American audiences will scratch their head over allusions to Charles G. Dawes and Harold Teen in the song "Conga!" (I can't imagine what the German audience made of it.) Good jokes, such as (paraphrasing) "I tried to make my mind a blank, but I kept thinking of Ohio," go right over their heads.
This is best described as a "concert staging" of Wonderful Town. There are no sets, and there's been a thin attempt made at costuming, props, and staging. Luckily, there are experienced singers on hand to make this idea work as best as it can. Actually, Rattle recorded Wonderful Town in London for EMI Classics in 1998 with all of the aforementioned singers, plus the Birmingham Contemporary Music Group, so these Berlin concerts must have felt like a bit of a reunion. Criswell's Ruth is in the tradition of Rosalind Russell, the role's creator, although Russell's foghorn voice gave her performance an absurd humor that is missing here. As her sister Eileen, McDonald is anything but an ingenue figure she is supposed to be, and she comes across as no less knowing than Criswell, so some of show's original contrasts are lost. It's hard to resist McDonald's "A Little Bit in Love," though. Hampson sounds hollow and worn, as if he were fighting a cold, in the role of Robert Baker, the show's romantic lead, and one or two ill-advised high notes don't improve the impression made by his singing on this occasion. As on the EMI recording, Brent Barrett doesn't capture the good-natured fatheadedness of Wreck, the former college football star, so well realized by Jordan Bentley on the original cast recording. He's more nerd than jock.
Rattle, the European Voices (formerly the London Voices?), and the Berlin Philharmonic give a punctilious performance of Bernstein's score, but it is more korrekt than Broadway-authentic. A shot of whiskey – or even schnapps – prior to the concert would have helped. Although all of the singers and many of the Philharmonic's players are drawn into the conga line during the final encore (members of the audience join in too), one feels like the fun on this occasion was more manufactured than spontaneous. Can it be that Wonderful Town simply doesn't travel well?
Copyright © 2007, Raymond Tuttle