DVD Review
The Labèque Sisters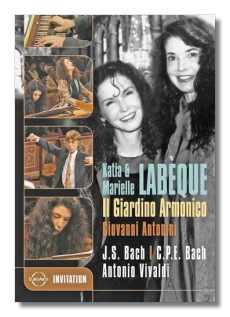 Concerto in C Major for Two Keyboards, BWV 1061
Concerto in D minor for Three Keyboards, BWV 1063
Carl Philipp Emanuel Bach: Sinfonia in G Major, Wq 182 #1
Antonio Vivaldi: Violin Concerto "per Pisendel" in D Major, RV 242
Katia and Marielle Labèque, fortepianos
Ottavio Dantone, harpsichord
Enrico Onofri, violin
Il Giardino Armonico/Giovanni Antonini
EuroArts DVD 2050746 60min LPCM Stereo Dolby Digital Anamorphic Widescreen
This live concert, recorded in 2000 in Vienna's Grosser Musikvereinssaal, was an unusual occasion in more ways than one. It's not every day that one hears the Labèque sisters playing the Baroque repertoire. More unusual, though, is the fact they're playing it on fortepianos – not pianos and not harpsichords. Still more unusual is the "mix and match" approach taken to BWV 1063, in which the two fortepianos are joined by a harpsichord. There's little modern-day precedent for playing Bach's keyboard concertos on fortepianos, and about as little precedent for using an assortment of keyboards in the three- and four-keyboard concertos. Nevertheless, in the Baroque era it was hardly unusual to arrange works for various instruments, and Bach probably would not have been shocked by what's done here in theory, although he might have raised his eyebrows over the details. In any event, the Labèques do a nice job in both concertos, although BWV 1061 sounds a little stiff in some passages. Dantone looks perturbed by having to compete with the sisters in BWV 1063 – it's almost like he's been turned into a basso continuo player, even though he should be playing an equal role in this concerto.
The Vivaldi concerto, part of his Op. 8 (which also contains The Four Seasons), is one of his best, and it is soulfully played by Onofri, with ample emotion and virtuosity. (Johann Georg Pisendel was leader of the Dresden Court Orchestra, and Vivaldi wrote several works for him after the Pisendel's visit to Venice in 1716.)
The Sinfonia by Johann Sebastian's son Carl Philipp Emanuel serves as a cheerful interlude between BWV 1061 and the Vivaldi. The changeable affect of this work – drama alternating with gentle humor – suggests that it might have been influenced by the Sturm und Drang movement, which was beginning to pick up steam around this time.
Il Giardino Armonico plays stylishly and with plenty of energy under Antonini. They nevertheless do not pound the music into submission by confusing spirit with violence – a frequent peril with ensembles of this sort.
There's another mystery to consider: why are there four keyboards at the front of the stage during the performance of BWV 1063, and why does Il Giardino Armonico's harpsichordist take a bow with the Labèques and Dantone at the end of the concert? My suspicion is that a concerto for four harpsichords was performed at some point in the concert, but, for whatever reason, was not included on this DVD.
The sound (PCM Stereo or Dolby Digital 5.1) and picture (Anamorphic Widescreen) are excellent on this DVD. There are no bonuses, except for trailers of four other EuroArts releases.
Copyright © 2006, Raymond Tuttle