Blu-ray Review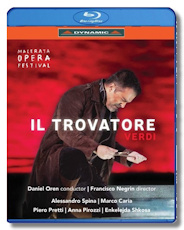 Il Trovatore
Marco Caria - Count di Luna:
Anna Pirozzi - Leonora:
Enkelejda Shkosa - Azucena:
Piero Pretti - Manrico:
Alessandro Spina - Ferrando:
Rosanna Lo Greco - Ines:
Augusto Celsi - Ruiz:
Alessandro Pucci - A Messenger
Coro Lirico Marchigiano V. Bellini/Carlo Morganti
Marchigiana Philharmonic Orchestra & Complesso di palcoscenico Banda "Salvadei"/Daniel Oren
Francisco Negrin - Stage Director
Louis Désiré - Set and costume designer
Bruno Poet - Lighting Designer
Recorded at the Macerata Opera Festival, Arena Sferisterio, July and August, 2016
Dynamic Blu-ray 57769 2:19:13 PCM Stereo DTS-HD MA 5.1
This is a very interesting production of this great Verdi operatic staple, one that some, however, may find a bit disturbing or extreme in its dark treatment of both the story and characters. But despite elements added by the stage director, which I'll deal with below, the production is, at least by today's standards, within the boundaries of tradition and well within the boundaries of good taste: there is nothing shocking or artistically insensitive here, the only goal being the most effective presentation of Verdi's art. This performance comes from the 2016 Macerata Festival (Macerata, Italy) and was staged there at the Arena Sferisterio, an opera-air stadium that features a very wide stage.
Most opera mavens are familiar with the story of Il Trovatore and so I will not rehash it here, though I will reference much of the plot as it pertains to stage director Francisco Negrin's imaginative treatment. The opera is of course about ghostly obsession, guilt and revenge. In this production those elements not only dominate the story but spill over into other aspects, such as the sets and lighting effects: the sparsely furnished stage is mostly dark, and throughout the performance you get an almost suffocating sense of doom in the Edgar Allan Poe-like atmosphere created by Negrin. Indeed, this is less a fantasy tale and more a horror one.
More than most other productions, this one places Azucena at the center of the opera's story, which admittedly is not exactly a radical departure from tradition. But what is arguably radical are several obsessive elements that appear throughout much of the opera: a large tower is prominently placed on the stage where Azucena's mother can be seen bound by ropes awaiting her awful fate of burning at the stake on orders from the Count for supposedly bewitching his son. Wandering across the stage, often right into the action, is a young boy dressed in burnt clothes, who represents Azucena's son, whom she had mistakenly tossed into the pit of fire as a gruesome retribution for the execution of her mother. Azucena had intended to throw the young son of the Count (brother of the current Count di Luna) into the flames but was confused in the fury of the moment. There is also a chorus of ghoulish figures who hover around the stage action and who represent guilt or torment or something demonic or maybe all three.
One of the difficult challenges for any stage director taking on this opera is to make its fantastic story have at least a semblance of credibility. I'm not sure that goal has been fully achieved here, but because of the otherworldly character of the production, the story does become less outlandish: this unhinged Azucena really could toss a child into a burning pit – and feel guilty about it as well. Of course, the libretto has traditionally been regarded as weak, not least because major events in the story take place between scenes – i.e., at the end of Part III Manrico decides to make a heroic attempt with his forces to rescue Azucena, but at the beginning of Part IV he has already failed in that endeavor and is being held prisoner by Count di Luna. Again, Negrin's darkly weird treatment makes such holes in the story seem less damaging. Overall then, his production must be counted a success, maybe even a great success.
As for the singers, there are two stars here – Anna Pirozzi as Leonora and Enkelejda Shkosa as Azucena. Pirozzi has a powerful voice, especially in her middle and lower registers. Not that her high notes lack power – try any of her arias. Her Tacea la notte placida is brilliantly sung, for example, with high notes soaring robustly to the heavens. The ensuing though brief Di tale amor che dirsi shows her remarkable agility and strong technique. Shkosa delivers a very effective and subtle Stride la vampa!, and she is consistently strong throughout, both vocally and dramatically. Her ensemble numbers are always impressive: for just one example, try her duet with Manrico, Mal reggendo all'aspro assalto. The other singers in the cast are quite good too, if not standouts. In the end, one can happily conclude there isn't a weak link in this chain of mostly little known singers.
Conductor Daniel Oren, surely not little known and one of the finest interpreters of Verdi and Puccini operas before the public today, draws spirited playing from the orchestra and shapes the score with a deft sense for the story's drama and for Verdi's unique style. I've reviewed many of Oren's performances here at Classical Net, and I have yet found one of them to be less than utterly brilliant and compelling. He possesses the best known name attached to this performance, but he should be even better known.
I've reviewed three other performances of Il Trovatore here: the BelAir Classiques Blu-ray disc featuring Mischa Didyk and Marina Poplavskaya in the leads and Marc Minkowski conducting BelAir Classiques Blu-ray BAC408;
the BBC Opus Arte DVD featuring José Cura and Veronica Villarroel as the ill-fated lovers and Carlo Rizzi conducting BBC Opus Arts DVD OA0849D; and finally the Karajan-led TDK DVD that featured Placido Domingo and Raina Kabaivanska DVCLOPIT. The latter two, effective though they are artistically, are older productions with somewhat inferior video and audio quality, and the BelAir Classiques Blu-ray, which I reviewed in 2014, is quite fine, if you like radically updated takes on your favorite operas: it reduces the number of characters here to five! If you favor a more traditional though bold rendition of this opera, then this one from Dynamic may well be your cup of tea. I found it captivating!
Copyright © 2018, Robert Cummings