Related Links
Recommended Links

Site News
CD Review
British Composers Conduct on Acoustic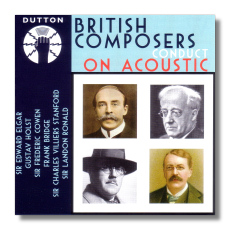 1 Symphony Orchestra/Frederic Cowen (1916)
2 London Symphony Orchestra/Frank Bridge (1923)
3 London Symphony Orchestra/Gustav Holst (1924)
4 Harold Williams, baritone
4 London Symphony Orchestra/Charles Villiers Stanford (1923)
5 Charles Mott, Frederick Henry, Frederick Stewart & Harry Barratt, baritones
5 Symphony Orchestra/Edward Elgar (1917)
6 Arthur Beckwith, violin
6 Royal Albert Hall Orchestra/Sir Landon Ronald (1920)
Dutton Historical CDBP9777 70m ADD
This is an absolutely fascinating CD bringing back long forgotten memories of the ghosts of the past enshrined in the technology of the time. Although the technology is admittedly rather primitive, Michael Dutton's remastering is a work of art and a great service to the world of classical music.
Six composers are represented here and each of them brings particular characteristics to the proceedings. Frederic Cowen conducts his 'Butterfly Ball' overture with great élan although the thrust is slightly lacking. Gustav Holst and Frank Bridge are different propositions altogether, their interpretations of 'Beni Mora' and 'The Sea' are astonishing, to say the least.
Real nostalgia comes into the element with the songs, particularly those by Stanford. Recorded just a few months before his death, these are astonishing documents from a bygone age with some particularly poignant contributions by Harold Williams. Elgar's 'Fringes of the Fleet' go back to 1917 and here we have another quartet of long-vanished names like Charles Mott, Frederick Henry, Frederick Stewart and Harry Barratt, the latter was to lose his life just a few months later on the front.
As a final farewell to Britain's then massive Empire, we find Sir Landon Ronald's short number, 'In an Eastern Garden' from 'The Garden of Allah', recorded in 1920. Again the sound is primitive but the sheer sense of occasion fairly leaps out of the record grooves. Add Lewis Foreman's masterly notes and at budget price, you have a package that is really worth its weight in gold.
Copyright © 2007, Gerald Fenech