CD Review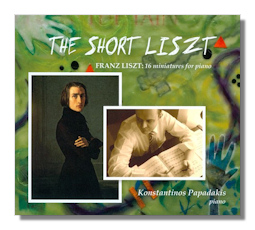 The Short Liszt
16 Miniatures for Piano
La Campanella (Grandes études de Paganini #3), S. 141
Waldesrauschen (Zwei Konzertetüden #1), S. 145/1
Gnomenreigen (Zwei Konzertetüden #2), S. 145/2
Klavierstück, S. 189a
Feuilles d'Album, S. 165
Valse oubliée #1, S. 215
Impromptu (Nocturne), S. 191
Bagatelle sans tonalité, S. 216a
Ländler, S. 211
Mazurka brillante, S. 221
Grand galop chromatique, S. 219
Scherzo (Allegro molto quasi presto), S. 153
The Maiden's Wish (from Chopin's 6 Polish Songs, Op. 74), S. 480
lieb, so lang du lieben kannst (from 3 Liebesträume), S. 541
Die Forelle (from 6 Melodien von Franz Schubert), S. 563
Widmung (from Schumann's Myrthen, Op. 25), S. 566
Konstantinos Papadakis, piano
D.S.H./Konstantinos Papadakis 211329 56m
The Short Liszt is a clever title for this collection of sixteen short piano pieces, to be sure, but the tasteful, subtly nuanced playing of Konstantinos Papadakis is the more obviously outstanding feature here. Born in Heraklion (Crete), Greece, Papadakis has had competition success, including capturing first prize at the Panhellenic Competition in Greece. He studied at the Hellenic Conservatory there under Vilma Antonakaki and has appeared at Carnegie Hall, Wigmore Hall and other major concert venues.
This program of short Liszt works clearly demonstrates he is a major talent. Actually, several of these pieces last around five minutes and more than a few are quite substantive in quality. But even the lighter pieces on this CD like La Campanella and Grand galop chromatique are top-drawer Liszt. The well-known difficulties of this pair are handled with seeming ease in these stunning performances, but Papadakis reaches beyond mere virtuosity and points up the playfulness, humor and subtleties in them.
In Waldesrauschen (Forest Murmurs) Papadakis renders Liszt's hypnotic whispers with a deftly soft touch, while in the bigger moments his dynamics rise to deliver the music with both power and a keen sense of drama. This is one of the finest accounts of this piece that I've ever heard. The ensuing Gnomenreigen features a similarly broad range of dynamics and achieves all sorts of colorful effects. Papadakis gets the most out of the beautiful but somewhat neglected Klavierstück, truly a short piece, lasting just over a minute here.
The Valse Oubliée has a more wistful quality in this performance than what one usually encounters. In Papadakis's hands it comes across with a greater expression depth too. Ditto for the lovely Impromptu. Papadakis perfectly captures the humor and quirkiness of the Bagatelle without tonality. Of the several performances I've heard of this generally neglected piece, I can't recall one nearly this colorful, this excellent.
The Scherzo brims with vitality and one simply wishes it weren't so short. Papadakis's account of the Chopin-derived The Maiden's Wish, sparkles delightfully, seeming even brighter in this upbeat take on the music. Two other transcriptive efforts, Widmung (Schumann) and Die Forelle (Schubert) show that Papadakis can deftly capture the quirky stateliness of Schubert, as well as the sublime passion of Schumann. The rarely encountered Mazurka brillante is a work that clearly deserves more attention, and Papadakis's effort makes the connection to Chopin alright, but also shows that the chameleonic Liszt goes well beyond mere imitation, adding his own imaginative touches that allude to Chopin while still sounding like Liszt. The other pieces on the disc are also brilliantly played and the sound reproduction is powerful and vivid.
There have been many fine interpreters of Liszt, including Leslie Howard, Argerich, Arrau, Berezovsky, Lazar Berman, Bolet, Brendel, Vladimir Ovchinikov, Richter and Jerome Rose. If I can make a judgment solely on the basis of one disc, I could add the name Konstantinos Papadakis to that LONG list.
Copyright © 2012, Robert Cummings