Related Links
Recommended Links

Site News
CD Review
Protégé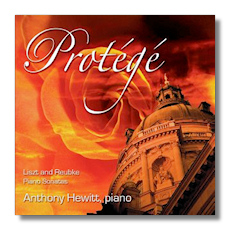 Franz Liszt: Sonata in B minor
Julius Reubke: Sonata in B Flat minor
Anthony Hewitt, piano
Divine Art DDA25064 61m DDD
This disc is more of an accolade to Liszt's acumen as a teacher rather than to his dazzling brilliance as composer and virtuoso. The Sonata in B minor is one of the greatest masterpieces of the piano repertoire, and with its ambivalent moods and introspective structure, is very difficult to bring off.
Anthony Hewitt's performance is exemplary in all respects and he captures the work's inner turmoil with uncanny ease. Nonetheless, the highlight of this CD is Johann Reubke's work, which is a very rare piece that deserves to be heard much more frequently.
Johann rebuke was one of Liszt's most distinguished pupils and was earmarked for a great career. Tragically, death struck him down when he was only 24. The Sonata dates from 1857, one year before his demise, and is very much in the mould of his master's work. Maybe it does lack a certain profundity, but it is certainly not short of dramatic intensity and also lyrical serenity, alternating between the two moods in quite perfect harmony.
Hewitt reveals a strong predilection for this work, and his involvement in the music is commendable. A beautifully presented album which is worth having just for the Reubke work alone.
Copyright © 2008, Gerald Fenech