CD Review
Leonard Bernstein & The Vienna Philharmonic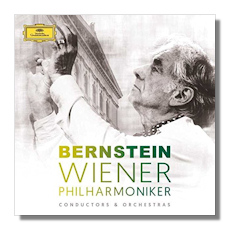 Conductors & Orchestras
Ludwig Van Beethoven: Symphony #9 in D minor "Choral:, Op. 125 *
Anton Bruckner: Symphony #9 in D minor (ed. Nowak)
Symphony #88 in G Major, Hob. I: 88
Symphony #92 in G Major "Oxford', Hob. I: 92
Symphony #94 in G Major "Surprise', Hob. I: 94
Gustav Mahler: Symphony #5
Symphony #40 in G minor, K. 550
Symphony #41 in C Major "Jupiter', K. 551
Cello Concerto in A minor, Op. 129 **
Symphony #2 in C Major, Op. 61
Symphony #6 in B minor, Op. 54
Symphony #9 in E Flat Major, Op. 70
Jean Sibelius: Symphony #1 in E minor, Op. 39
* Gwyneth Jones, sopano
* Hanna Schwarz, alto
* René Kollo, tenor
* Kurt Moll, bass
** Mischa Maisky, cello
* Konzertvereinigung
* Vienna State Opera Chorus
Vienna Philharmonic Orchestra/Leonard Bernstein
Deutsche Grammophon 4797221 8CDs
The four boxes of the "Conductors and Orchestras' series seem to be based on a mix of smart choices and throwing master tapes down the stairs. With no track listings in the booklets, no notes on sonic improvements, and original LP or CD jackets and timings, these sets seem aimed at beginners. Although I no longer consider myself a novice (something that should make you feel better, dear reader) each of these boxes offers something for everyone. Whether they offer enough will be up to you. A big advantage is the price; these eight-disc collections are quite inexpensive.
Bernstein's complete DG recordings have been issued together over the last few years, but I very much doubt that any novice would want those giant coffee table volumes. Additionally, there were smaller Bernstein sets during the past decade, and of course Bernstein's Mahler has been in print forever. In fact, the only recording not easily available at time of writing is the Bruckner, which is a true rarity. Should you need that, you could almost purchase the box for it and consider everything else a bonus. Not that the Bruckner is the best recording, but it's highly personal.
The conductor's relationship with the Vienna Philharmonic Orchestra was generally warm and commercially successful, but that doesn't mean that these are his best recordings. In two cases, the recordings score above Bernstein's earlier Columbia readings. These are the splendid – although somewhat heavy – Mahler #5 and the wonderfully characterful Beethoven #9. Bernstein's previous Mahler Five was simply not well played or recorded, and his Beethoven Ninth suffered from poor singing. This late Mozart is better too, but except for the Requiem his Mozart was never all that special.
The Schumann disc is a mixed bag. The symphony is one of the best recorded, but Mischa Miasky's reading of the Cello Concerto is arguably Bernstein's worst Schumann recording. Conversely, this is the best of the conductor's small non-Columbia Haydn output. Yes, it's a slightly heavier approach than his Columbia years, but still fully immersed in the composer's sound world. Besides, the Vienna Philharmonic plays magnificently. Unfortunately, they play less well for the Shostakovich disc, which along with the Sibelius proves vastly inferior to the earlier renditions. Of the two, the Sibelius is better than the Shostakovich, which is neither played nor conducted all that well. The Sibelius is also a poor value without a coupling (like the original CD).
Like the Karajan set from this same series, I have no idea who this box is intended for. Bernstein's fans will likely own most if not all of these, and non-fans probably won't want to. For the novice, I can imagine that a good deal of these recordings will inexpensively fill repertoire gaps. Maybe there will be somebody else who doesn't have the Bruckner who takes the plunge. Most of these albums sounded fine upon release and there's not much that hasn't been reissued and cleaned up since. I would have liked information on sonic upgrades regardless, but you can't win them all. If you need this or want it for a friend, grab it while it's still very cheap.
Copyright © 2017, Brian Wigman