CD Review
Stokowski Transcriptions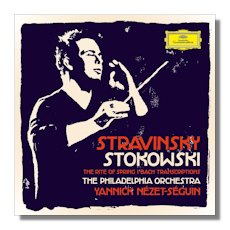 The Rite of Spring
Pastorale (trans. Stokowski)
Johann Sebastian Bach (trans. Stokowski):
Toccata & Fugue in D minor
Fugue in G minor "Little"
Passacaglia & Fugue in C minor
Philadelphia Orchestra/Yannick Nézet-Séguin
Deutsche Grammophon 4791074
There is a lot to like about this on paper, not least that the Philadelphia Orchestra is back on a major label for what feels like the first time in forever. And they're back in works that they've owned over the years like no other ensemble. Young conductor Yannick Nézet-Séguin is now at the helm, and he's clearly a great artist in the making. That's the main problem here; it feels like an unfinished product.
The Rite has a unique place in Philadelphia Orchestra lore. It was premièred on these shores by the orchestra under Stokowski, and later was brought to a wider audience with Disney's Fantasia. Eugene Ormandy recorded the piece once, but interestingly only in monophonic sound, and it was not to be revisited under his baton. Surprising really, considering the length of his legendary tenure with these players. Riccardo Muti dusted off the score for EMI and promptly turned in a thriller of a performance, coupled with an equally good Pictures. Yannick Nézet-Séguin's version does not match Muti's, or even Ormandy's, despite great playing and a clear love of the score.
The orchestra clearly has all the notes, and Nézet-Séguin doesn't really do anything notably offensive or wrong. He just doesn't do much notable, period. Like DG's last Rite under Gustavo Dudamel, there is plenty of attention to detail and superficially exciting speeds. Nézet-Séguin has the superior orchestral forces, but the results are still pale and not especially interesting. Everything actually sounds pretty good, until you compare to Bernstein, Muti, or the others. I love the wind detail and the clarity of texture – Muti's never did score highly when it came to recorded sound – and I love the string playing, which remains glorious as ever. What I'm far less thrilled with is the notable lack of tension and nervous energy that the score requires. It's just not a great overall result.
Obviously, the Stokowski transcriptions are easier to work with, but here Yannick Nézet-Séguin runs right into Stokowski himself and falls flat. It takes an understanding of the conductor's unique sound world, the pipe organ, and Bach himself to make these pieces work, and it just doesn't happen. The playing is fine, very fine in fact, but Stokowski had that too. More importantly, he could take players who weren't great and make them sound like he had written these transcriptions for them. His eager young successor lacks this magic, either here or in the Stravinsky, and thus, another Deutsche Grammophon Superstar fades under the lights. A shame.
Copyright © 2013, Brian Wigman