Related Links
Recommended Links

Site News
CD Review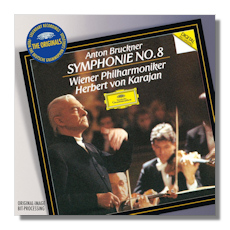 Symphony #8
Vienna Philharmonic Orchestra/Herbert von Karajan
Deutsche Grammophon Originals 4790528 82:58
It's great to see this magnificent recording on one overstuffed disc. Since this performance was released in 1989, only a full-priced two-disc set has been in circulation. Now at mid-price and on the generally laudable "Originals" series, anyone interested in Bruckner, Karajan, the orchestra, or even simply eliminating the disc change should pick this up.
As his valedictory recorded effort and released after his death, Karajan's deeply moving and intensely personal way with the score deserves attention. Yes, he recorded this work many times, and all of those (except perhaps the grossly overpriced one on Andante) could grace your collection with pride. There is something so uniquely compelling about this final reading that you understand why his final concerts in New York with this very piece were so special.
The orchestra plays as only they can. When Karajan's relationship with the Berlin Philharmonic crumbled in the late 80's, Vienna was more than happy to work with the aging maestro. Surely, some of his final work did come off as tired compared to his readings in Berlin, but then there were times like these, where everything went right. Tempi are broad, but Karajan makes everything sound so natural. He also knows how to work within the orchestral sound he has. He lets the string soar in a nearly ethereal way, while the fabled horns get lots of attention too. Only in the second movement do things seem just a touch stiff, but this remains as fine a "last" recording as it gets.
Chances are that the serious Bruckner fan already owns this, or knows they don't want it. For the newcomer to this glorious music, having such a storied performance on one disc makes this a no-brainer. As a tribute to one of the 20th century's great conductors and orchestras, it stands tall among an impressive discography. DG graced this particular set of sessions with some fine digital sound. Grab it while you can.
Copyright © 2013, Brian Wigman