Related Links
Recommended Links

Site News
CD Review
Russian Showpieces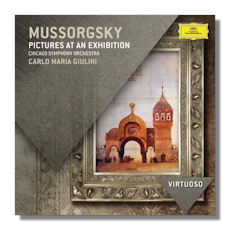 Pictures at an Exhibition 1
A Night on the Bare Mountain 2
Coronation of Boris from Boris Godunov (arr. Stokowski) 3
Alexander Borodin: Polovtsian Dances from Prince Igor 4
Sabre Dance from "Gayaneh"
Dance of the Highlanders from "Gayaneh"
3 Torgny Sporsen, bass
1 Chicago Symphony Orchestra/Carlo Maria Giulini
2 Berlin Philharmonic Orchestra/Lorin Maazel
3 Gothenburg Symphony Chorus & Orchestra/Neeme Järvi
4 Cleveland Orchestra/Oliver Knussen
5 Leningrad Philharmonic Orchestra/Gennadi Rozhdestvensky
Deutsche Grammophon Virtuoso 478338-2
This well chosen and nicely packed disc raises some questions about Universal as a music group. The Mussorgsky performances were recently available on DG's Panorama series, designed for beginning collectors. These two performances also featured on the Universal Classics line, which also targeted beginning collectors…while Panorama was still in print. Now along comes the Virtuoso line, which feels like the newest blend of both those previous lines. While this new series features some performances not obtainable elsewhere, this is at least the third time these particular performances have been around at a comparable price range in the last 10 years. Ridiculous.
That said, if you haven't heard these wonderful renditions or happen to be new to this repertoire, then this fits the bill nicely. Giulini always did a fine job with Pictures, and he had the good fortune to work with the great orchestras of the world while doing it. His Chicago Symphony recording proudly joins Kubelik and Reiner as benchmarks for the work in Chicago alone. Great solo work allied to a somewhat grim seriousness allows every section of the work to capture one's attention. Maazel's contribution dates from back in '58, but nonetheless finds the Berliners in unusually fine form for the time.
The fillers prove a good deal more useful. Järvi's full priced disc of Russian showpieces has stayed that way for years, and so a selection from that disc at bottom dollar is most welcome. Like everything Järvi does, it's exciting and driven, and shows the quality of his Gothenburg tenure. Knussen's Pictures would have actually been a fine choice to headline this disc, but instead we get a fun bit of Stokowski fluff. Lastly, I don't actually know why the Leningrad selections are here, but you can't find them on any other disc of value, so why not? As you might expect, they are wholly idiomatic and bring the album to a rousing close. Whatever reservations I have about major label marketing – too numerous to list here – there's no denying the quality on display. I recommend this with warmth.
Copyright © 2013, Brian Wigman