CD Review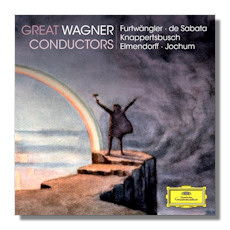 Great Wagner Conductors
Das Rheingold - "Entry of the Gods" 5
Die Valkyrie
"Magic Fire Music" 5
"The Ride of the Valkyries" 2 & 5
Lohengrin
Prelude to Act I 1, 3 & 7
Prelude to Act III 7
Parsifal
"Good Friday Spell" 3 & 8
Prelude to Act I 1 & 8
"Transformation Music" Act I 2
Rienzi - Overture 1
Siegfried Idyll 1
Tannhäuser
"Bacchanale" (Venusberg Music) 2
Overture 1 & 3
The Flying Dutchman - Overture 1
The Mastersingers of Nuremberg
"Dance of the Apprentices" 2
Prelude to Act I 1, 2 & 3
Prelude to Act III 2
Tristan and Isolde
"Isolde's Liebestod" 1, 3 & 4
Prelude to Act I 1, 3 & 4
Twilight of the Gods
"Funeral Music" 3
"Siegfried's Rhine Journey" 6
1 Munich Philharmonic Orchestra/Hans Knappertsbusch
2 Berlin Philharmonic Orchestra/Hans Knappertsbusch
3 Berlin Philharmonic Orchestra/Wilhelm Furtwängler
4 Berlin Philharmonic Orchestra/Victor de Sabata
5 Berlin State Opera Orchestra/Karl Elmendorff
6 Staatskapelle Berlin/Karl Elmendorff
7 Berlin Philharmonic Orchestra/Eugen Jochum
8 Bavarian Radio Symphony Orchestra/Eugen Jochum
Deutsche Grammophon 4781148 4CDs Mono/Stereo
With five great conductors, five great orchestras, and nearly five hours of music, this box is virtually a treasure trove; a must for serious Wagnerians and historical collectors. Although several works are repeated within the set, there are hours of fun to be had comparing individual performances. Best of all, this is really fine music; the Ride of the Valkyries is thankfully here only twice, and the slight Act III Prelude from Lohengrin is here only once. There is also no singing (Deutsche Grammophon has a "Great Wagner Singers" box that compliments this set for this very reason) and the sound understandably varies throughout. But if neither of those issues bother you, you'll be a very happy listener.
Much has been written (thanks, Amazon reviewers) about the supposedly inferior nature of Hans Knappertsbusch's later Munich recordings that occupy the first disc. Yet I find these Westminster readings to be warm and eloquent statements. The Munich Philharmonic in 1962 was no Berlin Philharmonic (frankly, they weren't all that special themselves, yet), and technical polish is occasionally lacking. So too is that last ounce of energy; the Flying Dutchman Overture never entirely leaves the ground. But Kna's sense of pacing is unquestionably great, his orchestra behind every effort. Some selections, like the Lohengrin Prelude, or Siegfried Idyll, go wonderfully well.
The conductor's Munich sessions bleed over into disc two (a pretty great Tannhäuser Overture and somewhat less distinctive Liebestod from Tristan), and are followed by Knappertsbusch conducting the Berlin Philharmonic in fine mono sound considering this is the late 1920's that are in question. Kna's younger self certainly does have more drive and forward momentum, but I prefer the stereo efforts for their clarity and nobility. If the Berlin Philharmonic wasn't particularly special in 1962, there was even less to cheer about in 1927 and 1928. The Dance of the Apprentices begins in an almost hideous fashion before noticeably improving going forward. Still, these takes have been lovingly restored and they sound compelling, some typically weird tempo shifts notwithstanding.
Furtwängler and Knappertsbusch were similar in that their recordings are almost painfully variable in terms of quality. When they were good, they were amazing. When they were bad, they were awful beyond measure. This applies to not only the conducting, but also playing and sound quality. Furtwängler recorded few Wagner orchestral excerpts, but these are all (thankfully) of high artistic merit. Disc also exclusively features the Berlin Philharmonic. The years from 1945 to 1952 were not especially kind to this ensemble, but one readily appreciates the advances in sound from 1927's rather primitive technologies. Additionally, one has to admire Furtwängler's large-scale vision for these works and the overall quality of playing he secures. The conductor is unsurprisingly attuned to the music's drama, but also keenly aware of its structure and form. In other words, everything is admirably controlled and clearly conveyed to the listener.
Disc four is perhaps the most interesting of all. Victor de Sabata was one of the greatest opera conductors of any age, but he loathed the recording process and only conceded to make a select few albums. He was a fine orchestral leader outside of the pit, as this and other historical releases prove, and his control of the Berlin Philharmonic is very impressive. Considering how ugly these players could sound in 1939, the absolute hair-trigger intensity and tightly-knit ensemble is nothing short of remarkable. All things considered, these mere 18 minutes sound mostly fabulous (brass is occasionally a touch sour, yet strings are richly vibrant in places), and are a highlight of the set. Karl Elmendorff, meanwhile, gets neither the Berlin Philharmonic, nor even a booklet photo, but his contributions are no mere afterthought. Working with two very fine and historic German orchestras, this oft-forgotten maestro leads dynamic performances that are high on excitement and far less disciplined and well-tuned as Sabata's. If nothing else, it shows the difference in what conductors in Germany were demanding from their charges.
Lastly, the set concludes with Eugen Jochum at the helm. So tied is his name to Bruckner that collectors often forget what a fine conductor he was of nearly everything else. As far as I know, the Lohengrin selections in Berlin are very hard to locate outside of this box, while the Bavarian Radio sessions last showed up coupled with – and I'm not making this up – Sibelius. At any rate, his credentials in the opera house were notable, and he really was a terrific Wagnerian. His Prelude to Act I easily stands with the other two readings present here, while the Prelude to Act III manages to sound like real music (as opposed to an excuse to make noise). The third and final Prelude (Act I, Parsifal) is wonderful, as is the Good Friday Spell from the same opera. And that's that, a stunning collection of top-rank historical material at a very reasonable price. My only gripe is that the sticker on the wrapper boasts about "many new remasterings" and "first international releases", but nobody bothers to say which performances fit either category. Furtwängler fanatics just might be nuts enough to know, but even they would be hard pressed to apply that particular skill to the whole box. But everything does sound remarkably good, and Deutsche Grammophon has done us a huge favor with this winner of a set.
Copyright © 2014, Brian Wigman