CD Review
Two Souls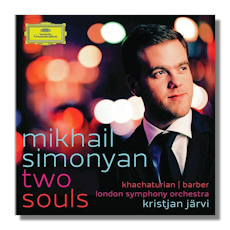 Violin Concertos
Aram Khachaturian: Concerto for Violin
Concerto for Violin, Op. 15
Adagio for Strings, Op. 11
Mikhail Simonyan, violin
London Symphony Orchestra/Kristjan Järvi
Deutsche Grammophon 4779827 DDD
Odd couplings of repertoire are not uncommon, especially with violinists (think of Hilary Hahn), and to our great pleasure young Mikhail Simonyan, too, newly signed by Deutsche Grammophon, comes out with the unusual pairing of Aram Khachaturian and Samuel Barber. "Two Souls", as his debut concerto recording is dubbed, refers to Simonyan's Armenian and American sides. Born in Novosibirsk in 1985 to mixed Armenian and Russian parentage, he spent his teens in the U.S. Playing the violin since he was five, he was already a multiple competition and prize winner before completing his studies at the Philadelphia Curtis Institute with Victor Danchenko, himself a pupil of none less than David Oistrakh's. The choice of the Khachaturian Violin Concerto was in this respect not just an homage to his Armenian roots but also to the great Oistrakh who premiered the work. Interestingly, although worlds apart in style and spirit, both concertos are practically contemporary – 1939-1940.
Recorded with the London Symphony Orchestra conducted by Kristjan Järvi, Simonyan gives winning accounts of both works. His artistic maturity is undeniable and it's obvious a lot of thinking went into the production of this album. Simonyan moreover pleases with a ravishing limpid tone, an excellent dynamic range, and proves as much at ease with the lyrical pages as with the fiery rhythms in both concertos.
Sympathetically supported by Järvi, Khachaturian's colorful melodies resonate with genuine eloquence under Simonyan's bow. After a swift and essentially light-footed first movement, punctuated by incisive interventions, Simonyan expresses the doleful tone of the Andante sostenuto with a subtlety that could have even the fiercest detractors of the composer reconsider. The final movement is an explosion of joy, dashed off with zest and virtuosity. Simonyan chose to draw out the Armenian character even more by commissioning a new 1st movement cadenza from the Armenian composer Artur Avanesov, replacing the ones from the composer and from Oistrakh. While it undoubtedly brings extra idiomatic color to the piece and it invites us to some ravishing violin playing, I'm not wholly convinced that Avanesov's interpolation with a strong feel of Armenian church-music fits that well in Khachaturian's sound-world.
Simonyan's enchanting sonority ideally serves Barber's lyricism, but as in the Khachaturian he spices the 1st movement with slightly emphasized accents. Järvi and a beautifully transparent London Symphony Orchestra are in total accordance again and orchestral interventions add to colorize what can otherwise sound pretty monochrome. The climaxes have plenty of bite but fit well in the overall concept. The quality of the orchestra is demonstrated as well in the Andante, with a radiant introduction from which Simonyan's violin naturally emerges. Simonyan opts for a slower than most tempo in the Presto in moto perpetuo, convincingly emulating an almost folk-like fiddling style, which allows for a more gradual but no less thrilling buildup.
We weren't really waiting for another recording of Barber's Adagio for Strings, which Järvi offers as a bonus. Yet other than that, for Mikhail Simonyan this is a superb Deutsche Grammophon debut. The CD is moreover beautifully recorded, offering a fine balance between soloist and orchestra, plenty of space and detail. Highly recommended.
Copyright © 2012, Marc Haegeman