CD Review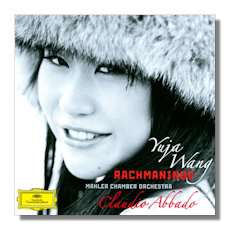 Concerto for Piano #2, Op. 18
Rhapsody on a Theme of Paganini, Op. 43
Yuja Wang, piano
Mahler Chamber Orchestra/Claudio Abbado
Deutsche Grammophon 4779308 DDD 56:11
On paper this looked pretty much like the ideal match: a young and gifted pianist taken under the wings of a revered old maestro to perform two of the most popular Rachmaninoff pieces in the repertory. 23-year-old Beijing-born and Curtis Institute graduate Yuja Wang already recorded two solo albums for Deutsche Grammophon, both marking her admirable technique as well as hinting at a certain promise of musical insight. To team Wang for her first concert album with veteran Claudio Abbado undoubtedly makes a most alluring lineup. And in case some of us were at a loss about the origins of this music, the budding star poses sweetly in a phony Siberian outfit - surely, this has to be a smash?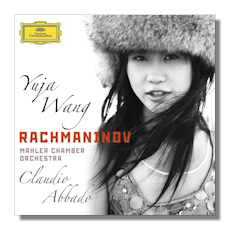 Well no, not quite. This disc was recorded live in concert in Ferrara, Italy, last year and perhaps this was due to a lack of rehearsal time but it sounds as if conductor and soloist still hadn't quite agreed about the pace. Especially in Rachmaninoff's 2nd piano concerto with that hesitant opening movement and that far too timid adagio sostenuto, inertia seems to be posing for melancholy. Instead of grandeur, big gestures, or genuine excitement that transcends the obligate firework climaxes, there are lapses of tension and one quickly loses interest. Wang for all her brilliant technique seems frequently held in check by Abbado's polished, rigid, and perfectly harmless approach. The Mahler Chamber Orchestra with its neutral and indifferent sound is in this respect his ideal instrument. Abbado secures the sort of hyper-objective take on music that only begs for a shot of emotion, and why not a drop of excess here and there to prevent it from turning into a purely instrumental demonstration. But then again, Wang herself doesn't doesn't give us many hints she really has something remarkable or new to say in Rachmaninoff. In view of the many references for the 2nd piano concerto - Janis/Doráti, Ashkenazy/Haitink, Wild/Horenstein, Richter/Wislocki, Katchen/Solti, or indeed the composer himself, to name but them – one is entitled to expect nothing less.
The "Rhapsody on a theme of Paganini" makes a somewhat better impression. Wang offers enthusiasm and cuts the variations with plenty of sparkle and colour. However, while the overall small-scaled approach suits this piece better than the concerto, at the end of the day there is no sense of real revelation here either.
The sound of these concerts is mastered rather low. Wang's piano is clearly balanced in the overall sound picture, but it does lack a beautiful sound. Arguably, a Rachmaninoff solo recital in the studio might have been a better option to further explore Wang's talent, because as it is this disc feels like a chance missed.
Copyright © 2011, Marc Haegeman.