CD Review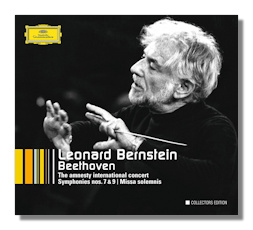 The Amnesty International Concert
Symphony #5 in C minor, Op. 67 4
Symphony #7 in A Major, Op. 92 5
Symphony #9 in D minor, Op. 125 "Choral" 3,4
Missa Solemnis in D Major, Op. 123 2
Overture "Coriolan", Op. 82 6
Overture "Egmont", Op. 84 6
Overture "Fidelio", Op. 72 6
Overture "King Stephen", Op. 117 6
Overture "Leonore" Overture #3, Op. 72b (two performances) 4,6
Overture "The Creatures of Prometheus", Op. 43 6
Piano Concerto #4 in G Major, Op. 58 1,4
String Quartet in C Sharp minor, Op. 131 6
String Quartet in F Major, Op. 135 6
1 Claudio Arrau, piano
2 Edda Moser, soprano; Hanna Schwarz, contralto; René Kollo, tenor; Kurt Moll, bass
3 June Anderson, soprano; Sarah Walker, mezzo-soprano; Klaus Kőning, tenor; Jan-Hendrik Rootering, bass
2 Radio Chorus of the NOS, Hilversum
3 Bavarian Radio Choir
3 Members of the Berlin Radio Choir
3 Dresden Philharmonic Children's Choir
2 Concertgebouw Orchestra/Leonard Bernstein
3 Members of international orchestras/Leonard Bernstein
4 Bavarian Radio Symphony Orchestra/Leonard Bernstein
5 Boston Symphony Orchestra/Leonard Bernstein
6 Vienna Philharmonic Orchestra/Leonard Bernstein
Deutsche Grammophon 4776690 6CDs
This is a decidedly mixed bag of mostly very late Bernstein. Although his association with Deutsche Grammophon yielded excellent results in Beethoven, Mozart, and Haydn, the man simply was not as consistent as his younger self had been. Make no mistake, there are some wonderful performances here, and probably not in the works you might first assume. For my money, the string quartet transcriptions are the best surprise, with an intensely powerful and heartfelt Missa solemnis not far behind. And as I've written for years, the overture disc from the 80s (here an actual overture disc) is wonderful, and deserves not only a careful remaster, but also to be united with its sister symphony cycle.
Everything else varies in quality. The Amnesty International concert from 1976 – the Beethoven Fifth, Piano Concerto, and Leonore Overture – probably should have become a highlight of the Bernstein discography, but didn't. Bernstein did some wonderful things with the Bavarian Radio forces, but none of these three works soundly eclipse the conductor's studio versions. Even the Fourth Concerto (which Arrau essentially owned in terms of an otherworldly mix of seriousness and poetry) takes a backseat in my book to Lenny's bizarre-but-fun version with Glenn Gould. In any event, Arrau's account with Colin Davis is a classic (though out of print for some reason) and is preferable to the present issue. The Fifth isn't bad, but this was never Bernstein's strongest argument on behalf of the composer, and the Bavarian forces do not outplay their New York and Vienna counterparts, respectively. To a lesser extent, that statement applies to the Overture as well.
This leaves the two performances at the end of the conductor's life, and in their own way, they are both terrible. The 1989 Berlin Wall Ninth is markedly inferior to either of Bernstein's studio versions and is a slow and droopy attempt to unite the entire free world under one concert hall roof. Don't get me wrong; I have friends who love this performance and are even moved to tears. And sure, having the Kirov players rub shoulders with the New York Philharmonic must have been very cool in 1989. It's not so special now, and Bernstein's obvious illness and lack of energy (the video recording of this shows a very sick man) means that sentimental values invariably trump the musical ones. The finale is slow and heavy, and to my ears not especially together.
However, as bad as that is, the Boston Seventh is a travesty and is a singular disservice to one of the great musicians of the 20th century. This was Bernstein's last performance, and not only did the conductor nearly die on the podium, he retired a few days later in exhaustion and quite possibly grief. The Boston Symphony is a world-class ensemble that sounds ragged and uncertain during what was supposed to be a celebration. The whole affair is a mess, and I don't see any reason why we keep releasing it. I hate to sound so unhappy, but only half this set is genuinely great. If you don't own the Missa and overtures yet, that might just be enough.
Copyright © 2018, Brian Wigman