Related Links
Recommended Links

Site News
CD Review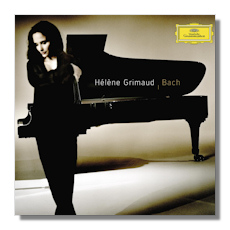 Bach Transcribed
Concerto in D minor, BWV 1052 *
Partita #2 in D minor, BWV 1004: Chaconne
Partita #3 in E Major, BWV 1006: Prelude
Prelude in A minor, BWV 462
Well-Tempered Clavier:
Prelude & Fugue in C minor, BWV 847
Prelude & Fugue in C Sharp minor, BWV 849
Prelude & Fugue in D minor, BWV 851
Prelude & Fugue in A minor, BWV 865
Prelude & Fugue in E Major, BWV 878
Hélène Grimaud, piano
* German Chamber Philharmonic, Bremen/Floiran Donderer
Deutsche Grammophon 4776248
I've decided to write a review of my favorite listening experiences for 2009. This is numero uno. The Chaconne is possibly my favorite Bach piece and I love listening to Milstein's DGG recording and/or Stokowski's transcription for orchestra. When I heard Grimaud play it, however, it is as though it must have been written for piano instead of violin. Busoni's work is simply amazing as is the playing and recording here. There are moments when I feel almost teary because the music is so beautiful.
I am not sure how much the actual recording affects my appreciation of this disc but it certainly has a lot to do with it. The sounds seem to float around the room, surrounding me with music. This is one of the finest recorded discs in my collection.
I've other recordings by Grimaud in my collection. I was impressed with her first when I heard her recording of Chopin's Piano Sonata #2 coupled with Rachmaninov's Second Piano Sonata and after listening to this Bach release I purchased an additional four CDs of her music making. In the opening Prelude #2 her fingering is swift and flowing. When necessary her playing is also delicate and refined and always musical. Just listening to the first movement of the concerto I found my self muttering, "Jesus F&%king Christ…how does she do it?" I was wondering what kind of instrument she was playing but there's nothing in the notes about it. This is a modern piano with full timbre and rich bass. Just the idea of listening to this music on a period piano has a finger-nails-on-chalkboard effect on me. Of course my initial exposure to Bach's piano music was Glenn Gould's Goldberg which was not a historically informed performance.
Listening to this CD prompted me to make a new rule in my home. People are not allowed to talk when Bach is being played. This recording has offered several pleasant evenings of listening since I bought it. I look forward to Miss Grimaud's Goldbergs.
Copyright © 2010, Robert Stumpf II