CD Review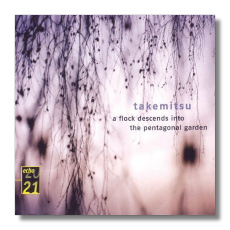 Quatrain
A Flock Descends into the Pentagonal Garden
Stanza I
Sacrifice
Ring
Valeria
Tashi
Yuji Takahasho, piano, celesta, and electric organ
Hiroshi Wakasugi, conductor; others
Boston Symphony Orchestra/Seiji Ozawa
Deutsche Grammophon 20/21 477538-1 ADD 59:45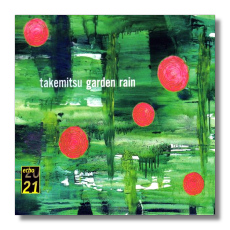 Garden Rain
Le Son calligraphié I-III
Hika
Folios I-III
Distance
Voice
Stanza II
Eucalypts I & II
Philip Jones Brass Ensemble
Ida Kavafian, violin
Peter Serkin, piano
Kiyoshi Shomura, guitar
Heinz Holliger, oboe
Aurèle Nicolet, flute
Ursula Holliger, harp
Tadamaro Ono, sho; others
Deutsche Grammophon 20/21 477538-2 ADD 71:56
The major international labels did not do much to celebrate the life and accomplishments of Japanese composer Tōru Takemitsu when he died in 1996; throughout the CD era, the availability of his music has been spotty. Now things are getting better. It will please many devotees of this composer to know that DG has reissued the contents of four LPs on these two CDs, both of them recent releases in the label's "20-21" series. In fact, the material on the second CD is seeing its first international release on CD.
To have Quatrain and A Flock Descends into the Pentagonal Garden on CD is a cause for celebration. These are two of the composer's most sensuous and approachable works – written in 1975 and 1977, respectively. Quatrain might be thought of a single-movement concerto for quartet and orchestra. In this case, the quartet is the ensemble Tashi, whose members were Ida Kavafian (violin), Peter Serkin (piano), Fred Sherry (cello), and Richard Stoltzman (clarinet). A Flock Descends, like Quatrain, is essentially a long adagio in which rich textures and melodies unhurriedly unfold. Takemitsu's debts to Debussy and Messiaen are very clear in these two works. Ozawa and his Bostonians play them with the ultimate in understanding and tonal allure.
The remaining four works were written for chamber ensembles in the 1960s. Sacrifice, Ring (no relation to the popular Japanese film!), and Valeria form a trilogy. Stanza I is a free-standing work. These pieces show a more difficult and experimental aspect to the composer's output. Although they have not aged as well as the orchestral scores, there are many intriguing ideas and timbres here. (What keeps them most viable today, apart from the composer's workmanship, is their sincerity.) Of the four, Stanza I is the most interesting, with its almost jazzy episodes, and its vocal interjections. Very 60s, man! The performances and engineering have no shortcomings that I could discern.
The second disc contains a number of shorter pieces, written between 1958 and 1974, for a variety of solo instruments or small ensembles. Similarly, the recordings were made in Japan between 1972 and 1975, and so it is understandable if this CD has a somewhat disjointed feel to it. The 1970s were an important decade for Takemitsu. It was around this time that it became clear that his music was making a mark not just in his native Japan, but also in Europe and the United States, and that Western musicians were willing to perform it.
This is probably not the best introduction to Takemitsu, as the sounds in these works can be challenging to listeners who don't readily take to modern classical music. (His lush orchestral scores – for example, Quatrain, A Flock Descends, and From Me Flows What You Call Time – are a better bet.) Still, Garden Rain, the work that gives this CD its omnibus title, is a gorgeous and very approachable meditation that is nearly eight minutes in length. It is played here by the Philip Jones Brass Ensemble, and what is particularly striking about it is its quietness and evenness – qualities one doesn't associate with brass instruments! It is as if there is a veil between us and the music, and the listener devotes all of his or her attention to seeing through it. Other works are at that era's cutting edge, even if they also seem a little dated today. Stanza II is for solo harp (Ursula Holliger – Heinz's wife) and prerecorded tape – there are both natural and generated sounds. All kinds of extended playing techniques are used in Voice, including speaking and singing into the flute – Aurèle Nicolet copes with this challenge, seemingly without embarrassment! All in all, this disc is something to dip into, not to hear straight through, but there's no lack of compositional skill or sensitivity here, and the performances (and the engineering) seem uniformly excellent.
Copyright © 2005, Raymond Tuttle