CD Review
Chin / Boulez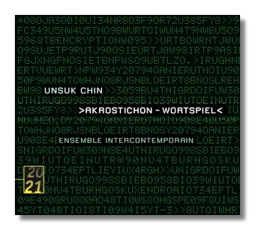 Unsuk Chin
Akrostichon-Wortspiel
Fantaisie mécanique
Xi
Double Concerto
Piia Komsi, soprano
Samuel Favre, percussion
Dimitri Vassilis, piano
Ensemble Intercontemporain
Deutsche Grammophon 477511-8 DDD 72:23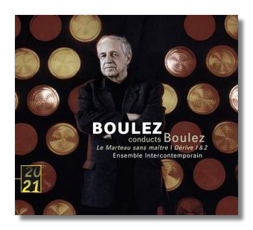 Le Marteau sans Maître
Dérive 1
Dérive 2
Hilary Summers, mezzo-soprano
Ensemble Intercontemporain/Pierre Boulez
Deutsche Grammophon 477532-7 DDD 69:06
Pierre Boulez founded the Ensemble Intercontemporain in 1976, and in the past three decades it has given its all not just to the music of its founder, but to music by other modern composers as well. Born in 1961, Unsuk Chin is a relative youngster compared to Boulez, who is now (venerably) in his eighties. Unsuk Chin is Korean – her initial studies were in Seoul, and in 1985, she came to Germany to study with György Ligeti, whose artistic sensibility certainly informs the four works on this disc. None have appeared on CD before. (Xi was recorded in 1999, and the remainder of the works were recorded in 2004.)
In DG's booklet notes, there is a telling quote from the composer: "As a result of my cultural background I have a certain aversion to the sounds that are typically produced by a European orchestra – for me this is simply a 19th-century institution – and I feel a great deal of affinity with non-European musical cultures. That is why I always try to introduce a completely different colour into my compositions based on my experience of non-European music." The different colour (or "color," if you prefer) is achieved in a variety of ways. The Double Concerto (2002) is scored for prepared piano, percussion, and ensemble, but the timbres of the piano fall well outside of the stereotypes established by John Cage and others of his generation. In fact, Unsuk Chin seems as eager to reconcile the timbres of the soloists and the ensemble as she is to oppose them. A similar phenomenon occurs in Xi (1998). Here, Unsuk Chin adds electronic sounds to her acoustic ensemble, and much of the piece's interest lies not in the contrasts between timbres but it the similarities between them. The ending of the piece is a stunner: the sound just fragments away – almost as if something had broken or run out - and we realize that what we thought was a passage for acoustic instruments was, in fact, "played" by electronics. (Xi, by the way, means "the smallest unit or the origin of things.") The Fantaisie mécanique (an allusion to George Antheil, perhaps?), written in 1994 and revised three years later, calls for trumpet, trombone, piano, and two percussionists. The "mécanique" refers not to machinery – except, perhaps, in the sense that all instruments really are machines! – but to a process or a mechanism whereby a seemingly improvisatory style is reconciled with a taut structure. My favorite work on the CD is the first, and the one that gives it its overall title: Akrostichon-Wortspiel, or "Acrostic Wordplay." Unsuk Chin takes – and then dismembers - fairy-tale texts by Michael Ende and Lewis Carroll to create an exciting and sometimes very funny (think of Ligeti's Aventures!) exploration of language as music and music as language. This is a virtuoso showpiece for soprano Piia Komsi, who reveals herself to be an especially gifted performer in the tradition of Cathy Berberian – not to denigrate her fellow musicians! - in this sweetly outrageous piece. Kazushi Ono, Patrick Davin, David Robertson, and Stefan Asbury share conducting duties on this CD.
Le Marteau sans maître (The Hammer Without a Master) is 50 years old, and for many, it is one of the most important pieces of music from the century just passed. Stravinsky, among others, was perhaps extravagant in his praise, calling it "the only truly significant work of this new age." Its significance has not translated into popularity, however; although it has been recorded several times, and is performed regularly, it is not the sort of piece that makes most of today's concert-goers drool in anticipation. It requires effort, and that's where recordings come in. In 1955, Boulez's audience did not have the opportunity to hear and rehear Marteau whenever it is convenient. We do, and so there's really no reason to complain that this music is too difficult to assimilate. Given everything that's been written about Marteau, it is a cultural duty for listeners to make an informed decision about the work's merit on their own. Boulez leads this newest recording with cool authority, and the musicians of the Ensemble Intercontemporain play it fearlessly. The mezzo-soprano, Hilary Summers, has a dark, smoky voice – at times she almost sounds like a countertenor – and she sings René Char's surreal text with both passion and clenched-jaw control.
Dérive 1 and Dérive 2 are more recent works – from 1984 and 1998/2002, respectively. The first, less than six minutes long and scored for six instruments, is another one of those tributes to conductor Paul Sacher that are based on his name: Es-A-C-H-E-Re. The second, which is considerably longer and scored for eleven instruments, was inspired by lectures Boulez gave in France in which he used music by Ligeti and Conlon Nancarrow as examples of structural phenomena. Yes, the music is cerebral, but if one surrenders to it and gives it more than one chance, it reveals a beauty of its own, and an order that is both intellectually and emotionally satisfying. These new recordings, conducted by the composer and played by the ensemble he founded, probably are definitive.
Both of these discs are in DG's "20/21" series, and are superlatively recorded.
Copyright © 2005, Raymond Tuttle