CD Review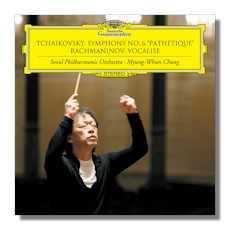 Seoul Philharmonic Orchestra/Myung-Whun Chung
Deutsche Grammophon 476490-2 DDD
The Seoul Philharmonic Orchestra was founded in 1948 and has always played a key role in the development of the classical music scene in South Korea. The appointment of the respected Myung-Whun Chung as music director and principal conductor in 2005 heralded an artistic renaissance for the orchestra. And now that the famous German yellow label has, by way of maestro Chung, taken the Seoul Philharmonic under its wings, the ensemble also seems destined for brilliant horizons outside of the Korean border.
With this release of Tchaikovsky's Sixth, recorded live in concert in Seoul in August 2011, they immediately aim high. And DG knows better than anybody of course with several outstanding recordings of the "Pathétique" in the catalogue (think of Fricsay, Mravinsky, Karajan, Bernstein…) Too high it seems; this new recording isn't going to replace any of these references, and both the conductor as well as the orchestra take part of the blame for that failure.
Chung conducts the outer movements of the symphony in a broad, implacable way. One can admire his stoic refusal to let himself drawn into the slightest excess or effect, but in fact, very little of interest happens along the way. Contrasts are understated, edges are softened, and the emotion is firmly held in check. It's the sort of reading that will please those who consider Tchaikovsky an over the top neurotic. Personally, it made me long for that moment when they would stop merely playing the notes and start making music. The amplitude in sound that Chung is aiming for is hindered by several lapses in flow and tension (as in the 1st movement's Moderato mosso passage just after the second subject began, or even in the development section, where the climax with the hair-raising scalic descent puffs out of breath midway). The appearance of the B minor trio in the Allegro con grazia is lacking this anxious undercurrent keeping it from becoming merely pretty. There is no doubt Chung always has the overall architecture of the symphony in mind, keeping the real shattering climax for the end, but it sure takes a long way getting there.
The Seoul Philharmonic isn't really able to secure the required sound balance either. True, the recording favors the violins (fine as they are) and has a distant concert hall ambiance, but the orchestral palette remains far too monotonous. Some of the woodwinds interventions sound rather timid, while the brass and timpani lack definition. Orchestral textures would ideally need more clarity and transparency.
After the "Pathétique", Rachmaninoff's Vocalise (in the composer's own orchestration) sounds quite superfluous. Chung treats it in a similar understated way.
In short, not the most convincing entrance for the Koreans to carve themselves a place in the international music market. Moreover with only 54 minutes running time this CD isn't particularly over-generous.
Copyright © 2013, Marc Haegeman