DVD Review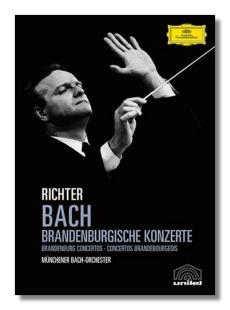 The Brandenburg Concertos
Brandenburg Concerto #1 for Violin, 2 Horns, 3 Oboes & Bassoon in F Major, BWV 1046
Brandenburg Concerto #2 for Trumpet, Recorder, Oboe & Violin in F Major, BWV 1047
Brandenburg Concerto #3 for 3 Violins, 3 Violas & 3 Cellos in G Major, BWV 1048
Brandenburg Concerto #4 for Violin & 2 Recorders in G Major, BWV 1049
Brandenburg Concerto #5 for Flute & Violin in D Major, BWV 1050
Brandenburg Concerto #6 for 2 Violas, 2 Viola da Gambas & Cello in B Flat Major, BWV 1051
Munich Bach Orchestra/Karl Richter
Deutsche Grammophon DVD 073414-7 99min LPCM DTS Fullscreen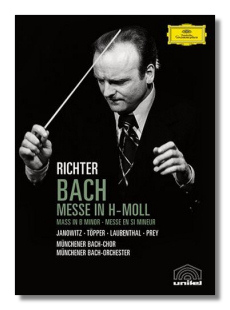 Mass in B minor
Peter Schreier, tenor (Evangelist)
Ernst Gerold Schramm, bass (Jesus)
Siegmund Nimsgern, bass (Peter, Pilate)
Gundula Janowitz, soprano
Hertha Töpper, contralto
Horst R. Laubenthal, tenor
Hermann Prey, bass
Munich Bach Choir and Orchestra/Karl Richter
Deutsche Grammophon DVD 073414-8 129min LPCM DTS Fullscreen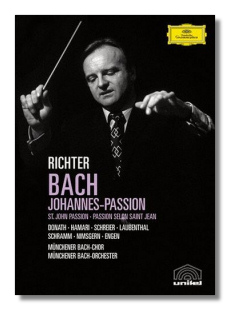 St. John Passion
Peter Schreier, tenor (Evangelist)
Ernst Gerold Schramm, bass (Jesus)
Siegmund Nimsgern, bass (Peter, Pilate)
Helen Donath, soprano
Julia Hamari, contralto
Horst R. Laubenthal, tenor
Kieth Engen, bass
Munich Bach Choir and Orchestra/Karl Richter
Deutsche Grammophon DVD 073411-2 129min LPCM DTS Fullscreen
Karl Richter was born in 1926 in Saxony, and was trained asa choir master and organist, eventually obtaining a position in 1949 as organist in Leipzig's Thomaskirche. Four years later, he founded the Munich Bach Orchestra and Choir, and his performances and recordings, while using modern instruments and pitches, nevertheless were quite different from the norm because of his willingness to take on tradition, and his quest to return Bach's music to the 1700s, not the late 1800s. Authentic performance practice also was in the ascendant during Richter's lifetime, but he remained faithful to his way of doing things, and he eschewed the (some might say) astringent manner proposed and performed by the likes of Nikolaus Harnoncourt and his successors. Before his early death in 1981, Richter made many recordings of Bach's music, as a harpsichordist, organist, and conductor. These Unitel videos, apparently made for German television, were unknown to me until now, and this is their first release on DVD.
The Brandenburg Concertos were filmed in April 1970 in several different rooms located in Munich's Schloss Schleißheim. These are not concert performances, but video recordings that appear to have been created with posterity in mind. Unsurprisingly, then, these readings do not differ greatly from those heard on the LPs (now transferred to CD) that Richter recorded for Deutsche Grammophon's Archiv label in 1967. The musicianship is controlled and intense. The outer movements are exciting, but they seldom dance or smile, and the slow movements, while they are allowed to sing, are not allowed to become too expressive or sentimental. Our understanding of Baroque performance practice has changed a great deal since 1970, and while Richter's Brandenburgs are not precisely old-fashioned or unstylish, they nevertheless need to be placed in the context of the era to be appreciated fully – just like the musicians' hairstyles! Richter conducts from the harpsichord in most of the concertos. The soloists include Hans-Martin Linde (recorder), Otto Büchner (violin), and Pierre Thibaud (trumpet). Everyone looks very serious!
Natural lighting seems to have been used as much as possible in filming these performances. Sometimes the cameras are too static, and at other times their placement is unexpected, but I got much pleasure out of watching Richter and his musicians have at it. (The video director, as in the other two DVDs, is Arne Arnbom.) A fullscreen, 4:3 format has been used, confirming that these performances were intended for television viewing all along. The sound (PCM stereo and DTS 5.1) is shallow and overly bright, and while it is adequate, it is far from spectacular. Not a relic, but certainly not the last word in authenticity, Richter's Brandenburgs are pleasurable.
The B-minor Mass was recorded the previous September in the beautiful Klosterkirche in Diessen am Ammersee. Arnbom allows the gaze of the cameras to wander not just over the faces of the performers, but also piously up and around the architecture and the church's artwork. Again, a fullscreen format has been used in what seems to have been solely a made-for-TV production, because when the camera turns to face Maestro Richter head on, we see that no one is sitting in the pews. The recording was made between September 12 and 28, but the performance does not feel pieced together.
"Credo," say the faces of the chorus members and the soloists, and Richter also asserts his belief through the rock-solid steadiness and devotion of his conducting. Again, Richter's performance is very much of its time. The chorus and the orchestra are rather large, although not ridiculously so, and modern instruments are used. The chorus is comprised of men and women – no boys allowed. The Latin texts are pronounced in the Latin style – most memorably so in the case of Hermann Prey's solo, "Kvoniam tu zolus zanctus"! Richter's direction is more grandiose here than in the Brandenburgs, and yet there is no question of his turning the B-minor Mass into something just pulled out of the museum. Back in 1969, it probably sounded quite unusual; only by today's standards does it seem fairly traditional, yet still gloriously vital as a testament of Christian belief. The solo vocalists are well matched. Anything Gundula Janowitz does is worth hearing, especially when she does it with an alto whose voice is as rich and steady as Hertha Töpper's. Laubenthal also is a model of steadiness and concentration in the "Benedictus," and what Prey doesn't say with his radiant face he says with his no less radiant voice, especially in the "Quoniam." Again, the sound is too bright for my tastes, but it isn't really irritating.
The excellent musical values noted in Richter's Brandenburgs and B-minor Mass hold true, and then some, in the "performance" of the St. John Passion preserved on the third DVD. Filmed once again in the Klosterkirchein Diessen am Ammersee (September 1-7, 1970) in the absence of an audience, Richter's reading treats the Passion as if it were an unstaged opera. Richter himself sits at the harpsichord to direct ("accompany" would be too weak a word) each and every recitative, reminding one of opera performances during the Baroque and early Classical eras, and his conducting emphasizes the drama and changing emotions throughout the entire work. Schramm, Nimsgern, and (especially) Schreier could hardly have emoted more strongly had they been in costume and standing on the stage of Munich's opera house. The chorus outdoes itself here, reaching a expressive highpoint near the end during "Ruht wohl, ihrheiligen Gebeine." Donath is radiant in her two arias, as is Hamari in hers. Engen contributes another superb piece of singing in the arioso "Betrachte, mein Seele, "where he is beautifully accompanied by an (uncredited) lutenist.
Unfortunately, Arnbom (if it was he) made a major miscalculation with this production. Much of the time, the camera is not fixed on the instrumentalists or the singers, but on medieval frescos depicting the betrayal, judgement, crucifixion, and resurrection of Christ. The camera pans over and scans the same static, painted details over and over again. During the chorales, the frescos are replaced by the German texts as sung by the chorus. This kills the music's dramatic immediacy – were Germans sitting at home expected to sing along? My guess is that less than 30 minutes of this DVD's 129-minute running time are devoted to showing the actual performers. (We barely see Donath and Hamari at all.) This is a great performance, but it has been all but destroyed by the video presentation. If you're looking for a purely religious experience, this might work, but as a musical experience, it's little more than a CD with artwork. The audio and video formats are as above. Both the Mass and the Passion have subtitles in several languages.
Copyright © 2006, Raymond Tuttle