Blu-ray Review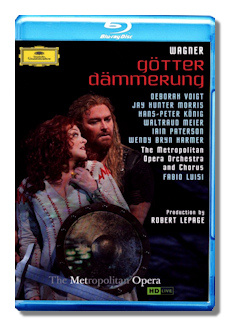 Götterdämmerung
Siegfried - Jay Hunter Morris
Brünnhilde - Deborah Voigt
Hagen - Hans-Peter König
Alberich - Eric Owens
Gunther - Iain Paterson
Gutrune - Wendy Bryn Harmer
Waltraute - Waltraud Meier
Erste Norn - Maria Radner
Zweite Norn - Elizabeth Bishop
Dritte Norn - Heidi Melton
Woglinde - Erin Morley
Wellgunde - Jennifer Johnson Cano
Flosshilde - Tamara Mumford
Metropolitan Opera Orchestra and Chorus/Fabio Luisi
Production - Robert Lepage
Set Designer - Carl Fillion
Associate Director - Neilson Vignola
Costume Designer - François St-Aubin
Lighting Designer - Etienne Boucher
Video Image Artist - Lionel Arnoud
Recorded at the Metropolitan Opera February 11, 2012
Extra Feature "Backstage at The Met" Interviews conducted by Patricia Racette
Deutsche Grammophon Blu-ray 734853-6 272m (15m - Bonus) LPCM Stereo DTS-HD Master Audio 5.1
This is of course the concluding opera in Wagner's Ring cycle, and I can only regret that I didn't obtain the other three DG Blu-ray discs from the Met Ring, because, if I can judge from this performance of Götterdämmerung, they must all be fabulous. The productions were notable for the use of "The Machine", a multi-purpose, computer-controlled structure weighing forty-five tons and consisting of twenty-four rotating planks that reflect video projections of mountains, bodies of water, trees and forest, and much other scenery. The planks can rise up all together, individually, or in various combinations to form columns, roofs, floors, wood enclosures and a variety of other structures. Personally I think "The Machine", a creation of set designer Carl Fillion, was ingeniously imagined, serving as the ultimate chameleon to form sets of either traditional or hi-tech appearance. There was supposedly a malfunction during a performance of Die Walküre, when projections of mountains suddenly disappeared, after which the computer was rebooted and the Windows logo was seen for a moment before the mountain scenery returned. Stuff happens. For this performance of Götterdämmerung, however, one could have no complaint about The Machine's operation.
New York critics were generally positive about the live Met Ring, but nitpicked about various things, including certain aspects of "The Machine". But I find little to fault in this performance. The star of the cast is Deborah Voigt, said by detractors not be in the same voice as she was years ago. Perhaps so. But here she's fine and while she may have lost a smidgeon of power and a bit of sheen to her tone, she makes an excellent Brünnhilde, rarely displaying a pedestrian moment in her singing or acting. In the Third Scene of Act I her singing with Waltraute, and later with Siegfried, is artistically as convincing as you could want: she's effective in all ranges and is alive with passion and commitment. To sample a brief but splendid excerpt of her artistry here, try her in Abendlich Dämmern deckt den Himmel (track 20). Or, for heartrending passion, try her two numbers near the opera's end in Starke Scheite schichtet mir dort (track 47) and Mein Erbe nun nehm ich zu eigen (track 48).
American tenor Jay Hunter Morris is Siegfried and he too is quite effective in his role. He has been active on the operatic stage since the 1990s but only began to achieve international notice from around the time of his 2007 Met debut as Steva in Janacek's Jenufa, a performance that was broadcast across the globe. But it was clearly his appearances in the Met Ring cycle in 2011-12 that brought him international celebrity. He will turn fifty in July, and after hearing him you'll wonder why he has only recently become widely known. Try his death scene number, Brünnhilde, Heilige Braut! (track 43) to sample his considerable vocal abilities and grasp of drama.
Of the other cast members Wendy Bryn Harmer as Gutrune is particularly excellent. She has power and beauty of tone and divulges no weaknesses whatever in her singing, and her dramatic skills are also fully convincing. Hans-Peter König as Hagen, veteran singer Waltraud Meier as Waltraute and Eric Owens as Alberich are also splendid in their roles. I could go on to name others in the cast, but all are well above adequate. As usual the Met chorus is excellent, even showing fine acting skills in their reactions to the main characters in Act II. The orchestra plays with a sense of mastery in this score: the Met ensemble may, along with the Vienna Philharmonic, be the finest operatic orchestra on the scene today. While James Levine helped build the ensemble into what it is today, you have to give a lot of credit for the success of this performance to conductor Fabio Luisi, who replaced the ailing Levine for both Siegfried and Götterdämmerung. Here Luisi offers a vital, passionate take on the score, with judicious tempos and a good sense for Wagner's dramatic flow.
The costuming is reasonably good and the lighting and other effects, as earlier suggested, are quite fine too. The extra feature here, Backstage at The Met, features interviews with the cast principals, Fabio Luisi, and production head Robert Lepage. The camera work is excellent and the sound reproduction powerful and vivid. This is a splendid Götterdämmerung, surely among the finest efforts on video. In 2012 I reviewed the Barenboim/Bayreuth Ring (Warner Classics D4755) and way back in 2004 I reviewed the Zagrosek/Stuttgart State Opera Götterdämmerung (EuroArts TDK DVOPRDNG 105209-9) and found them both worthy efforts, especially the Barenboim. This new Götterdämmerung on DG challenges the Barenboim musically and is better, I think, in its staging and other production aspects.
Copyright © 2013, Robert Cummings