CD Review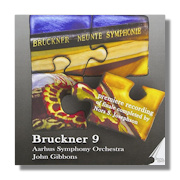 Symphony #9 in D minor
1896 version including a reconstructed finale by Nors. S. Josephson
Aarhus Symphony Orchestra/John Gibbons
Danacord DACOCD754 80:31
To identify what we have here: this is the 1896 version of the Bruckner Ninth Symphony as edited by Alfred Orel and Leopold Novak, with the addition of the finale as realized by Nors S. Josephson. And the music is presented here on a reissue, though the recording is relatively new having been made in April, 2014. Bruckner is of course already problematic because of the many different versions of his symphonies. For listeners still familiarizing themselves with the music, it's a real challenge. Indeed, they have to sort through the editions of Novak, Haas, Carragan, Doblinger, Gutmann and many others who have had a hand in editing or, in fact, tampering with Bruckner's symphonies. But now this performance of the Ninth Symphony will be a further complication for many listeners – but maybe a good complication.
This is one of five complete versions of this Bruckner symphony, which is usually heard in its three-movement version; that is, sans finale. At his death the composer had left only sketches of the finale – some more detailed than others – up to the last ninety bars, leaving out the coda altogether. About one third of the sketches are reasonably decipherable regarding Bruckner's intentions, but the rest are skeletal and unclear, and there are even a few missing pages. Thus, to complete the work requires a lot of guesswork for much of the movement, and to fashion the coda involves divining the composer's ideas from what precedes, including the first three movements. So it's a formidable task and one that obviously cannot be presented as authentic in any way but only speculative. Still, I'm usually interested in such reconstructions of major unfinished works: at least you get an idea of what the composer was preparing. Further, what do you have to lose when hearing at least an approximation of the composer's thoughts? If you don't like the finale, you still have the other three movements, which are quite masterly creations.
But, I hear you ask, how good are the other three movements in this particular performance? Answer: quite fine. The playing by the Aarhus Symphony Orchestra is impressive throughout, and John Gibbons' vision of the score is thoughtful, sensitive to Bruckner's epic manner, and consistently engaging. There may be more imposing efforts by Horenstein, Wand and others, but Horenstein and Wand, especially the former, feature sound reproduction that is rather dated. Moreover, this newer rendition is convincing in its own more centrist way. I should mention that Tintner offered a less grandiose account as well, and I've always liked his take on this great score.
One might suggest the Gibbons' effort here is sort of a conflation of approaches: it is muscular though not particularly weighty, grand but not overwhelming in sound, fairly lean in its tempos (try the lyrical sections in the Scherzo), and detail-rich in elucidating many densely scored passages. True, some of the more climactic moments in the first movement could exhibit more power and drama, and effective though the Scherzo is, some listeners might prefer a bolder, wilder take on the music. Not that Gibbons and the Aarhus players are tame here – their version is eminently valid in its spirit, precision and drive. Their Adagio is also quite convincing in its sensitivity and emotional flow, and you can't help but admire the sound of the Aarhus players. So, the standard Bruckner Ninth gets quite a strong performance.
As for the finale, it is also excellently played. But what of the music? I can say several very positive things: its orchestration mostly sounds like Bruckner's and the music is logically structured, with the coda coming across in a reasonably convincing way. Josephson completed this version in 1992, having begun work on it in 1979. He obviously didn't take the project lightly. The first part of the finale in Josephson's version here is similar to one by Samale, Phillips, Cohrs and Mazzuca, which Josephson probably couldn't have been familiar with, as it appeared in 1991 (with revisions in 1996). This portion, the first third or so of the movement, is the least puzzling part to reconstruct, because, as mentioned above, it is for this that Bruckner left the most detailed sketches. Afterwards things become very challenging to put together. Josephson's take on the music sounds reasonably authentic from this point and while his closing moments, which involve recalling a portion from the first movement climax, also come across well, the music sounds a bit predictable. Still, overall his effort is laudable.
In the world of great paintings a forgery has sometimes been taken for the real thing, at least for a time. If a good forgery can be art, then a completion or reconstruction such as this can obviously be art, as well. Indeed, and it is art not based on deception, like a forgery, but rather on research, intuition, guesswork and imagination. Thus, one must offer praise for Josephson and his fine, well thought out effort. Danacord provides excellent sound reproduction to round out this important release. To lovers of Bruckner's music, this is a must. To casual admirers, it's at least a desirable acquisition.
Copyright © 2018, Robert Cummings