CD Review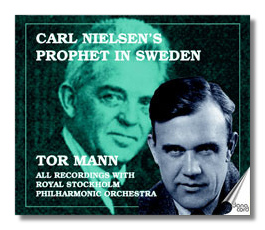 Prophet in Sweden
Symphony #1 in G minor, Op. 7
Symphony #2 'The Four Temperaments', Op. 16
Symphony #3 'Sinfonia Espansiva', Op. 27
Symphony #4 'The Inextinguishable', Op. 29
Symphony #6 'Sinfonia Semplice'
Oriental Festival March from 'Aladdin'
A Saga Dream Op. 39
Saul and David, opera
Marianne Öhrn, soprano
Lars Billengren, tenor
Sigurd Björling, bass
Swedish Radio Choir
Royal Stockholm Philharmonic Orchestra/Tor Mann
Danacord DACOCD627-630 4CDs 295m ADD
I have not reviewed something by Carl Nielsen for quite some time now, considering that my reviewing career began with a phase on this great composer that lasted for years! Happily surrounded by classic recordings from Thomas Jensen, Launy Grondahl and Erik Tuxen, I believed that were was nothing much left to unearth in the form of legendary Carl Nielsen until this magnificent set came along.
I was vaguely familiar with Tor Mann as a champion of contemporary Scandinavian music but had no idea that he left recordings of five Nielsen symphonies and a complete relay of the opera, 'Saul and David'. Having played under Nielsen in the Royal Danish Orchestra, Mann brings an invaluable insight into proceedings and this is demonstrated in the otherwise not too clear recordings.
My favourite remains, 'The Inextinguishable' which truly wreaks havoc in this splendid interpretation. If not quite on the same level as Launy Grondahl's legendary account (Dutton), Mann understands the importance of sustaining the pulse and flow of this work. He manages to keep the music flowing beautifully and whips up the tension and excitement in the Finale to end the work on a truly glorious note.
The other symphonies are also very well done with the Third particularly expansive and flowing, particularly in the second movement. The 'Sinfonia Semplice' is also very mysterious and at times quite bleak but Mann captures the spirit of the work in rather exemplary fashion.
'Saul and David' also moves along quite well, although I must admit that I have never got to grips much with this opera. However, I can safely say that I greatly enjoyed Tor Mann's account which comes alive in quite a blaze of glory. It compares well with Thomas Jensen's pioneering account, also on Danacord and is useful to have back in the catalogue.
Some gripes with the sound apart, this new Nielsen release is a must for all fans of this great composer whose music simply never fails to thrill.
Copyright © 2005, Gerald Fenech