Related Links
Recommended Links

Site News
CD Review
Mili Balakirev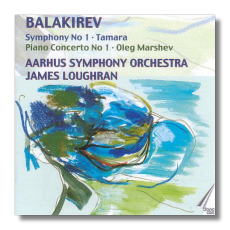 Symphonic Poem 'Tamara'
Concerto for Piano #1 in F Sharp minor, Op. 1
Symphony #1 in C Major
Oleg Marshev, piano
Aarhus Symphony Orchestra/James Loughran
Danacord DACOCD616 79m DDD
Balakirev's First Symphony is well served in current catalogues but is still good to have this excellent version by James Loughran. The symphonic poem, 'Tamara' and the rarer First Piano Concerto also make excellent couplings.
'Tamara' was a favourite for Sir Thomas Beecham and I do feel that his account with the RPO on EMI is hard to beat although Loughran runs him close. Other contenders include the late Evgeni Svetlanov on Hyperion and the rather laid back Sinaisky on Chandos.
In the First Symphony, I cannot forget either Beecham or the magnificent Herbert von Karajan with the Philharmonia that sounds astonishing for its age, having been recorded in 1949. However, Loughran is a sympathetic interpreter and the music is played with a direct simplicity that is disarming by the increasingly expert Aarhus Orchestra.
Oleg Marshev is a fine interpreter of the Piano Concerto having already recorded excellent accounts of the Shostakovich and Prokofieff concertos. He receives sympathetic support from Loughran and the version is quite recommendable.
In summing up then, I wouldn't be without my versions of Beecham in 'Tamara' or Karajan's astonishing First Symphony but newcomers could do much worse than purchase this excellently recorded disc which offers honest to goodness accounts of all three works on all counts.
Copyright © 2005, Gerald Fenech