CD Review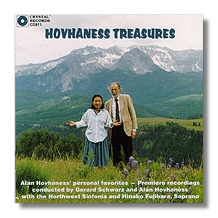 Hovhaness Treasures
Symphony #31
Starry Night
Celestial Canticle
O, Joy at the Dawn of Spring
Symphony #49, "Christmas Symphony"
Scott Goff, flute
John Carrington, harp
Ronald Johnson, xylophone
Hinako Fujihara, soprano
Northwest Sinfonia/Gerard Schwarz, Alan Hovhaness
Crystal Records CD 811
This album, titled "Hovhaness Treasures," is in reality nothing less than the composer's valentine to his wife, Hinako Fujihara. Not only does she sing on the album, but, at Hovhaness' insistence, she did the liner notes, which (also at his insistence) were not subjected to edit. All this said, I'd have to be a cad to criticize this album. Just call me "bounder."
First, none of the music on this disc makes or breaks Hovhaness' reputation. If you like Hovhaness' music already, you'll probably like most of the program. If not, the pieces recorded here won't convert you. Not only do I admit to liking much of Hovhaness, but his artistic personality fascinates me. Yes, he repeats himself, but his huge catalogue almost makes that inevitable. Nevertheless, to complain about elements like his modal fugues and "spirit murmur" passages cropping up in piece after piece misses the point. You might as well complain about the Wagnerian appoggiatura, Bruckner's chorales and ripoffs from Das Rheingold or Mahler's marches and Ländler, Van Gogh's brushwork, or Whitman's long lists and the use of the climatic "O." In a sense, all of these things become artistic iconography, rather than pure art. Finding new contexts for the icons is the trick, and this I believe Hovhaness usually does.
The Symphony #31 for strings begins with an unusual, yet perfectly natural, delicate, and extremely musical pizzicato accompaniment, joined to an almost cantorial melody and a beautifmodal chorale. In fact, excepting two fugal movements, the symphony seems a study in the various uses of pizzicato. Indeed, Hovhaness – like Lukas Foss and late Britten – has an uncanny ability to incorporate both simple and advanced techniques or intellectual complexities into expressive music, with what comes off as great ease.
Starry Night, according to the liner notes based on the Van Gogh painting, is just one of those Hovhaness pieces that make me wonder why he bothered. I can think of few dissimilar or less mutually-sympathetic artists than Van Gogh and this composer. Confronted with the almost aural buzz of Van Gogh's "fires in the sky," Hovhaness inexplicably produces a serene, almost still-born work. "O, Joy at the Dawn of Spring" from the opera Tale of the Sun Goddess Going into the Stone House (I can just imagine Plácido Domingo in this one) is interesting as it shows us why Hovhaness is no opera composer. The man has no dramatic sense at all and seems to envision everything as a tableau. Even his great capacity for melody fails him. On the other hand, both works last only about ten minutes. Thank the techno-gods for programmable CD players.
Celestial Canticle, on the other hand, is just flat-out gorgeous, fully living up to its album billing as a "treasure." Sure, Hovhaness has done it before, but we would better note that he has done it again. Writing music so directly communicative and moving isn't all that easy. In fact, depending on the complex and abstruse is much easier, both to produce and to understand. Unfortunately, its dedicatee, Fujihara, simply doesn't have the chops to bring off the performance. She's consistently flat and, on the higher notes, painful to listen to. She comes off as the composer's indulgence.
For many reasons, the Symphony #49 "Christmas Symphony" for strings stands out as unusual in Hovhaness' output. For one thing, Hovhaness wrote it without commission (at a certain point in a successful career, composers don't write *anything* which lack certain of money and performance). Obviously, Hovhaness wanted to write this. I can't really call it a monument in his catalogue, although it is quite lovely and no throwaway. Hovhaness has made a sincere attempt to expand his melodic resources. The tunes show a somewhat surprising kinship with Appalachian and British folk song, rather than the usual Hovhaness brand of orientalia. Schwarz gets warmth from the Northern Sinfonia and, without inflating the work, finds many ravishing moments.
As for Fujihara's liner notes, let me pass on cheap jokes and say she's not a writer of idiomatic English, sometimes to the detriment of meaning.
The sound is clean, with just a slight reverberation. It's closer to a live string sound than the engineer's string-o-rama spectacular, and thus closer to the music's spirit.
Copyright © 1997, Steve Schwartz