CD Review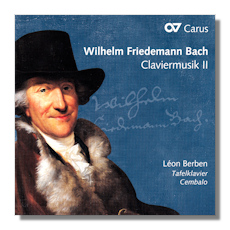 Claviermusik, Volume 2
Sonata in C Major, F. 1b (BR-WFB A 2a)
Sonata in C Major, F. deest (BR-WFB A 1)
Sonata in D Major, F. 4 (BR-WFB A 5)
Fantasia in C minor, F. 16 (BR-WFB A 19)
Sonata in E Flat Major, F. deest (BR-WFB A 8)
Sonata in E Minor, F. deest (BR-WFB A 9)
Sonata in F Major, F. 6b (BR-WFB A 11b)
Fantasia in E minor, F. 20 (BR-WFB A 23)
Léon Berben, pianoforte/harpsichord
Carus 83.388 78:56
There's a good chance that – whatever your expectations of the music on this excellent CD by Dutch harpsichordist Léon Berben – they will be modified, if not overturned. It's the second in his series on Carus. Although the listener will surely not feel that Berben is trying either to enhance (or even "disguise") the stylistic markers of Johann Sebastian Bach's second child and eldest son, Wilhelm Friedemann, the freedom of expression, the variety, the surprises, the twists and turns, changes in tempo, key, and melodic direction – often within the same movement – are likely to leave the listener with a deeper understanding of the solo keyboard repertoire in the third quarter of the century than before s/he was pinned back acoustically by the wayward exuberance of the first work (Keyboard Sonata in C Major, BR-WFB A 2a [tr.s 1-3]) or left in wonder at the inconclusive inner speculation of the final Fantasia here – in E minor, BR-WFB A 23 [tr.20].
In other words, this is music which exudes excitement, originality, energy and color from first note to last. Berben responds admirably to these qualities. He is obviously enjoying the experience of presenting us with a couple of première recordings too: the other Fantasia here, in C minor [tr.13], and the F Major sonata [tr.s 17-19]. Berben's approach is much livelier than that in the comparable series of Friedemann's solo keyboard music from Julia Brown (with Barbara Baird) on four Naxos CDs ( 8.557966, 8.570530, 8.572814 and 8.573027).
The works on this CD range from the start of Friedemann's happy time in Dresden to the decay and degradation of his unhappy final years. Yet their vivacity shows little of the melancholy which he must have felt with debt and adverse employment environments. Indeed, the improvisatory contrapuntal and wide-ranging tonalities of the C minor Fantasia [tr.13] are extraordinary in their strength and indomitability. Berben revels in the (perhaps resulting) tension between introversion and extroversion. Every one of the other works is played by Berben (in sharp distinction to Brown's approach – equally satisfying though hers is) as though Friedemann's sense of wanting (needing) to create were barely fulfilled, scarcely complete. This must be both because his creativity existed in such quantity; and (disturbingly) because the form and format constrained him. New ideas burst from the Wilhelm Friedemann at all times. One of Berben's most impressive achievements is to side with the composer in representing these to us without in any way drawing their teeth or trying to tame their animation and spirit.
Friedemann had extensive skills as an improvisor. Accounts of his concert playing suggest that he could concentrate almost entirely on extemporizing. The C minor Fantasia [tr.13] may be a notation of just such an (amazing) improvisation. It is because of this skill of Friedemann's that another tension is unavoidable: the one between composition as (technical) model, and the need to write expressively and from the heart. This is not an easy balance to strike. Berben not once falls into the temptation of spurious virtuosity. Remarkably, we are left with the best of both worlds: the controlled sitting nicely with the vibrant; and the boundless given greater impact by quietly concealed technical authority.
While the other works here are played on an original harpsichord by Gräbner from 1782, the E minor [tr.s 14-16] and F Major [tr.s 17-19] as well as the second Fantasia [tr.20] take advantage of the somewhat brooding qualities of the emerging piano… a Square Piano from 1787 by Hubert. They are both mellow yet clean-sounding instruments. Each is perfectly miked, emphasizing the music not the playing as performance. That's just what's needed for this repertoire.
This is all the music of a mature composer. For all Friedemann's tribulations, it's as detached yet full of passion as Mozart's would be barely a generation later. Berben rightly rejoices in its refusal to be categorized; in its freedom of spirit; and in its generosity of invention, yet strange rigor. The end result, for some, will be that Friedemann's solo keyboard music will assume a stature in its own right and not the successor to his father or the precursor to the Classical.
The acoustic (that of the Germanisches Nationalmuseum in Nuremberg) is close, intimate and yet highly responsive to the minutiae of Berben's playing, as well as respecting the arches, niches and paths which Bach describes over nearly 80 minutes of first-class musicmaking. The booklet with text by Peter Wollny has adequate background, and commentary on each work played. Usefully, it details the two instruments used and explains how Berben's research priorities and interest particularly in keyboard music of this period and of the preceding 200 years inform his approach and playing. Wilhelm Friedemann Bach can be a difficult composer to get to know. This small slice of this corner of his output is exposed here with expertise and flair such that anyone seeking to do so will be enthused and glad that they did.
Copyright © 2015, Mark Sealey