Related Links
Recommended Links

Site News
CD Review
Hans Rott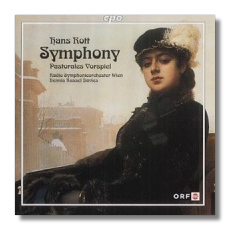 Symphony in E Major
Symphony in E Major
Pastorales Vorspiel
Vienna Radio Symphony Orchestra/Dennis Russell Davies
CPO 999854-2
Hans Rott (1858-1884) was a contemporary of Mahler. This is his only symphony. It was completed in 1880. He spent much of that year seeking to get it performed. Whilst on a train trip in October of that year he drew his revolver and threatened a man. "He was afraid that Brahms had loaded the train with dynamite." He eventually ended up in an insane asylum in Austria where he died four years later at the age of 25.
When this symphony was discovered in the late 1980s it caused quite a stir. the Penguin Guide to Compact Discs opines, "It is astonishing to encounter in Hans Rott's Symphony ideas that took root in Mahler's First and Fifth Symphonies." In fact, the music is based on Das klogende Lied and is the influence on Mahler. Mahler did not take from Rott, he was influenced by that song. Furthermore, what Mahler did with the music is much, much better. In Mahler's First Symphony I hear the voice of a genius. The best explanation of Rott's come from Brahms' comments after looking at the score. He "… doubted that Rott was the author of the symphony because 'together with such beauty there was also so much triviality and nonsense." I think this best describes what I heard.
I am glad I have this in my collection. It will get pulled out on occasion when I want to make a reference. I may also use it as an example of why some composers' music just misses being great.
It may just be that the music is not well performed. The only other recording I know of was warmly recommended in the Penguin Guide to Compact Discs (O. Samuel on Hyperion 66366) I also note that Dennis Russell Davies takes almost four minutes off the conclusion compared with the Hyperion recording.
The sound is a bit congested. The notes talk mainly about the initial reception of the music (as in the Penguin Guide to Compact Discs). "On closer examination one often enough will come to the conclusion that what has just been advertised as a big bang was hardly anything more than a little whimper…" I would think that CPO would have chosen a writer who is more sympathetic to the music.
So it goes.
Copyright © 2002, Robert Stumpf II