CD Review
Hans Rott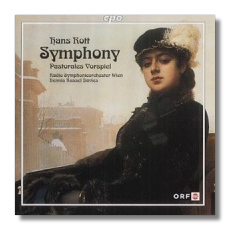 Symphony in E Major
Symphony in E Major
Pastorales Vorspiel
Vienna Radio Symphony Orchestra/Dennis Russell Davies
CPO 999854-2 DDD 71:03
You know you're in for fun when the booklet notes for a Nineteenth-Century symphony cite "The Silence of the Lambs with Anthony Hopkins and Jodie Foster, USA, 1990." Viennese composer Hans Rott was born in 1858. His early musical aptitude was noted, and he was sent to study at the Vienna Conservatory. Gustav Mahler was a classmate, and Anton Bruckner was one of his teachers. The Symphony in E was begun when Rott was all of twenty years old. When he completed it in 1880, he attempted to interest Hans Richter in it, and then Johannes Brahms. Both the conductor and the esteemed composer rebuffed Rott's efforts. Less than two months later, Rott's mind snapped. He was sent to a psychiatric hospital in Vienna, and after a suicide attempt, to the Lower Austrian State Insane Asylum, where he died in 1884 at the age of twenty-five. The Silence of the Lambs reference concerns the "Hannibal Lecter" mask commonly used in European asyla during that era. Annotator Eckhardt van den Hoogen comments about Rott's madness and untimely death as follows: "Who would have wanted to survive even only one day while wearing such an inhumane device if he was not a genuine psychopath?" The photograph of Rott on the booklet's inside front cover shows him to be an intense, unsmiling young man – not unattractive – with a head of hair that looks as if it had been styled with an egg beater.
This symphony caused a minor sensation when it was discovered a little more than a decade ago. Listeners remarked that it sounded more like Mahler than Mahler himself; the third movement of Rott's symphony and the second movement of Mahler's First Symphony are, to a great extent, cut from the same cloth. (And yes, Rott's symphony came first.) The symphony opens with material that would have made Bruckner proud, and there are big echoes of Wagner here and anticipations of Richard Strauss there. Robert Schumann – another victim of mental illness – flits in and out. The "capper" is Rott's fascination with Brahms. (Shades of Heinrich von Herzogenberg!) This fascination reaches its zenith in the symphony's finale, with an unmistakable allusion to the main theme from the parallel movement of Brahms' First Symphony. Rott, however, whips it up into a Wagnerian thunder-cloud, not avoiding bombast at all. One can understand Brahms' reservations, and neither rhetoric nor unnecessarily dense scoring is avoided, yet this is a remarkable score. Hindsight being 20/20, it is tempting to call it, if not the work of a madman, then at least the work of a composer dealing with some powerful identity issues. If nothing else, Rott's Symphony in E will puzzle the hell out of listeners who thought they were reasonably conversant with orchestral music from the second half of the Nineteenth Century.
The Pastorales Vorspiel (1877-1880) is less interesting, as it lacks the visionary qualities of the symphony. It sounds like the conservative work of a pupil who was eager to please his old mentor. One wonders who Rott would have been if he had lived longer: a flash in the pan, or a composer whose stature was as imposing as Mahler's?
These recordings were made in 1998. The Pastorales Vorspiel sounds live, and there are some messy passages that should have been fixed. The performance of the Symphony is much stronger, which at least is matching strength with strength. Here, the Vienna Radio Symphony lets it all hang out, and Dennis Russell Davies has fun with Rott's many improprieties. How much fun it would have been to hear Leonard Bernstein conduct this score!
cpo's sound is excellent – again, better in the Symphony – and Eckhardt van den Hoogen's booklet note is both provocative and informative, although it has been translated into somewhat tortuous English.
Copyright © 2002, Raymond Tuttle