CD Review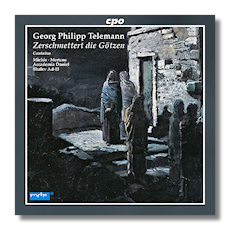 Cantatas
Zerschmettert die Götzen, TWV 2:7 *
Der geliebte und verlorne Jesus, TWV 1:1099
Jesus und die Seele, TWV 1:1133 *
Dorothee Mields, soprano
* Klaus Mertens, bass-baritone
Accademia Daniel/Shalev Ad-El
CPO 777249-2 DDD 71:49
Many of Johann Sebastian Bach's church cantatas are presumably lost, although it is not likely that he composed as many as Telemann, who is responsible for well over a thousand of them. As with the previous CD of Telemann's concertos from CPO (777195-2), this one was recorded in association with the Magdeburg Telemann Festival Days, a semi-annual event whose goal is to present Telemann's "demanding and outstanding compositions in performances by artists of international rank." These performances were recorded in 2006.
A typical cantata begins with a chorus and ends with a chorale. In between, arias, sometimes with important instrumental obbligatos, alternate with recitatives. The cantatas on this CD deviate from that pattern in a fairly common way, in that they are solo or duet cantatas, meaning that there are only one or two singers. The closing chorale is sung by the soloists or omitted completely.
Zerschmettert die Götzen ("Smash the idols") is a lengthy cantata, and unusually constructed, because it is in three parts or "divisions." (It is likely that liturgical material was presented between the parts.) The occasion for its composition in 1751 was the consecration of a new church in Nienstedten, or "Neuenstädten" as it was known at that time. This is music for a festive occasion, and so the scoring includes two trumpets and timpani. The opening bass aria, as suggested by the opening words, is rather militant, but it contains more gracious examples of Telemann's word-painting as the bass sings of the Lord (represented as "Der Ewige") coming down "gently, slowly, mildly" on "the wings of the winds."
Der geliebte und verlorne Jesus ("The beloved and lost Jesus") is also known by its beginning words, Meine Rede bleibt betrübt ("My speech is saddened"). This probably is an earlier work. The text, by an unknown author, draws parallels between Mary Magdalene, who has come to Jesus's tomb and finds it empty, to a maiden who is seeking her beloved, paraphrasing the Song of Solomon. This cantata, then, is a series of lovesick arias, and Telemann's music sweetly and feelingly depicts a maiden's longing. The use of an oboe intensifies her gently forlorn plaints.
Jesus und die Seele ("Jesus and the Soul"), is also known by its beginning words, Dein Schade ist verzweifelt böse ("Your bruise is incurable"). This is a dialogue cantata, in which the Soul is represented by the soprano and Jesus by the bass. At first, the sinning Soul is given no hope of forgiveness, but Jesus relents, saying the Soul must come to him with "faith, hope, and prayer," which the soul gladly promises to do. Once again Telemann calls upon the oboe to create a plaintive atmosphere. In the opening aria, Jesus is made to sound more disappointed than angry or truly implacable.
The performances on this CD are splendid. Klaus Mertens's voice is warm and flexible, and his use of legato ensures that Telemann's melodies impress listeners with their beauty. Soprano Dorothee Mields sings with bright but not piercing tone, and with a very well controlled and expressive vibrato, which suits these cantatas extremely well. Israeli conductor Shalev Ad-El conducts the Accademia Daniel, an Israeli early music ensemble, and the results are stylish, sensitive, and graceful.
As usual, cpo's booklet contains a wealth of information; texts and translations are included as well. The engineering is excellent too.
Copyright © 2008 by Raymond Tuttle