CD Review
Opera Omnia IV – Organ Works 2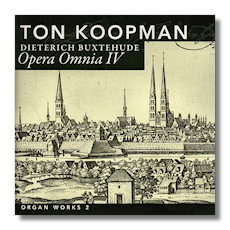 Toccata in F, BuxWV 157
Ein feste Burg ist under Gott, BuxWV 184
Fuga in C, BuxWV 174
Wie schön leuchtet der Morgenstern, BuxWV 223
Nun komm der Heiden Heiland, BuxWV 211
Puer natus in Bethlehem, BuxWV 217
Passacaglia in D, BuxWV 161
Christ under Herr zum Jordan kam, BuxWV 180
Ach Gott und Herr, BuxWV 177
Toccata in G, BuxWV 164
Canzona in G, BuxWV 170
Danket den Herren, BuxWV 181
Der Tag, der is so freudenreich, BuxWV 182
Canzonetta in G, BuxWV 173
Fuga in G, BuxWV 175
Gelobet seist du, Jesu Christ, BuxWV 188
Praeludium (manualiter) in G, BuxWV 163
Ton Koopman, organ
Challenge Classics CC72243
With scarcely a pause at the end of his complete cycle of the Bach cantatas, to which we shall be turning our attention here shortly, the ever enterprising and highly energetic Ton Koopman has now reached Volumes III and IV of the complete works (Opera Omnia) of Dieterich Buxtehude, who lived from about 1637 to 1707. We examine both this month. This is a huge undertaking: the website Koopman has set up (using the French version of his name!) suggests it will stretch to nearly two dozen volumes. It's not been done before and promises to make available much wonderful music by a leading exponent thereof. It's a very significant event and the auspices look extremely good so far for quality, presentation and scholarship.
Ton Koopman comments in his informative notes to this second volume of organ works, "Playing organ works by Buxtehude is an adventure". It's hard to see how he could have approached this adventure more positively and more energetically. And how the results could have been more pleasing. Here are a dozen and a half pieces written before 1683 (when the organs of the Marienkirche, Buxtehude's place of work, were converted to Werckmeister) to be played in meantone tuning. So they complement the mostly later works on the Opera Omnia III, "Organ Works 1" (Challenge 72241) CD nicely. The organ chosen by Koopman and his team for this disc, then, is the Wilde/Schnitger instrument of 1599, extended in 1682, at St. Jacobi Kirche in Lüdingworth, Germany.
The way that the stylus phantasticus, (an improvisatory approach to composition emphasizing both a free form and brief contrasting musical themes) was adopted by Buxtehude means that Koopman has had to use all his experience and a good deal of research to work credibly from the most appropriate sources. Altogether Buxtehude is known to have written almost a hundred organ compositions (although many are shorter chorale settings). Since we so far have fewer than 30 on these two CDs, we should expect more. That's all to the good since it could be claimed that the composer's organ works are his single most important contribution to music. It is to be noted that a majority of north German organ music from this time was improvised and not preserved as written. We have Bach (and his pupil Agricola) to thank for the survival of many of these works by Buxtehude.
Even a first or cursory listening to this CD will startle you with the sheer variety of forms, moods, tones, textures, styles, purposes, effects and sounds of (this selection of) Buxtehude's organ pieces. No two pieces make the same, or similar, impressions on the listener… chorales, preludes, ostinato variations, passacaglie, fugues, toccate, canzonette, and obbligato pieces etc. Indeed the BuxWV 163 Praeludium (manualiter) in G is like a seven course banquet in itself. One can hear the almost abandoned delight which Koopman brings to the playing of this lovely piece. He has the gift of rendering the sound almost visible, tactile, very close and present in his tempi, held notes, the emphasis he gives to key chords and pauses – and specially to the several wry repeats, including the one at the very end. As if one can see church mice scuttling around the feet of the master Buxtehude in the cold and damp in the Lübeck church! What this accomplished technique of Koopman's does, of course, is bring Buxtehude's humanity to the fore, where perhaps a foreboding, austere and unapproachable figure is assumed to be the artist Bach so much admired, and from whom he learnt so much. No wonder.
So Buxtehude uses an almost unspoken awareness of the richness of his sonic world. He seems keen to explore its many aspects. And has written in multiple veins and from a multitude of points of view. Specifically on this CD there are:
pedaliter preludes… the toccata in F, BuxWV 157
manualiter pieces… the prelude in g, BuxWV 163; toccata in G BuxWV 164; canzona in G BuxWV 170; canzonetta in g BuxWV 173; fugues in C, G BuxWV 174, 175
variations… passacaglie in c, e, d BuxWV 161, 159, 160, 161
the short chorale settings… BuxWV 180, 184, 211, 217
the longer chorale settings… BuxWV 177, 181, 188, 223
Some pieces are quiet, reflective and understated and leave you with a sense of calm and wonder… Ein feste Burg, BuxWV 184 is a good example. Yet Koopman plays this with forward motion and a serenity that is surely just what Buxtehude wanted. Similarly the Fugue, BuxWV 174 comes across as measured, very present and impressive – for all its subdued nature – without being imposing. Then a piece like Nun komm der Heiden Heiland, BuxWV 211 Koopman plays with a gentleness of touch and sensitivity that is far from maudlin or sentimental, yet conveys the depth of Buxtehude's surely infinite compassion. And so throughout the whole disc. Again, Koopman's exuberance adds immensely to the music-making. Amongst other things it adds a feeling of great immediacy. As though Buxtehude had scarcely completed these pieces last week. Not unfinished or unpolished. Just untarnished. If this music is new and/or if you want to collect instrumental compositions by an as yet under-appreciated giant of the Baroque, this CD is for you. If you want to be in on the surely significant contribution that Koopman is making to elevating the level to which Buxtehude is appreciated, then consider looking out for the other discs in the series as they appear. Thoroughly recommended.
Copyright © 2007, Mark Sealey