CD Review
Miklós Rózsa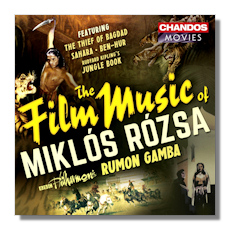 Film Music Suites
The Thief of Bagdad
Rudyard Kipling's Jungle Book
Sahara
Ben-Hur
BBC Philharmonic Orchestra/Rumon Gamba
Chandos CHAN10806 DDD 80:07
Miklós Rózsa (1907-1995) is mainly remembered as the composer of epic Hollywood film scores of the 1950s – Quo Vadis, Ivanhoe, Ben-Hur, among others. Less well known is that he also excelled in the film noir genre, while his auspicious first steps (as a young concert music composer) in the movie industry, closely connected to fellow Hungarian producer-directors Alexander and Zoltán Korda, remain relatively underrepresented on disc. Starting in 1937 Rózsa went on to compose for no less than nine pictures of the Korda's, often successful, lavishly produced works that remain classics of the silver screen.
This latest title in the Chandos "Film Music series", performed by the BBC Philharmonic under Rumon Gamba, offers a glimpse of that inspired early period in Rózsa's career, with Concert suites from The Thief of Bagdad (1940), Rudyard Kipling's Jungle Book (1942), and Sahara (1943).
The CD includes an informative essay from Andrew Knowles about Rózsa and the music tracks. Interesting to know, for example, that at the time a Suite for narrator and orchestra was distilled from Jungle Book hoping to equal the success of Prokofieff's Peter and The Wolf. In effect, Korda's Jungle Book became the first American-made film to have its score commercially released as an album. Melodious, evocatively and colorfully scored, covering a highly varied emotional range, the 31-minute-long suite (performed here without narration) is absolutely compelling.
No less intriguing is the Suite from The Thief of Bagdad, an Arabian Nights fantasy tale which meant a huge break for the composer as it eventually brought him to Hollywood. Begun for Alexander Korda's London Films Company in Britain in 1939, after the outbreak of the war the production had to be moved and completed in Los Angeles. Rózsa provided a sweeping, richly textured, impressionist score which owns not a little to the faux orientalism of Rimsky-Korsakov and other Russian composers. An early example of Rózsa's passionate lyricism is the magnificent Love of the Princess. The theme of the Silvermaid's Dance would later become the main "paranoia" theme in the Hitchcock movie Spellbound (1945).
A rarity on disc is Sahara, a war movie starring Humphrey Bogart and directed by Zoltán Korda, presented here in a suite 7:46 in duration arranged and orchestrated by Christopher Palmer, who worked with the composer.
All selections are conducted with great flair by Rumon Gamba and the BBC Philharmonic proves utterly responsive and sounds perfectly at home in this repertoire, performing with spirit and energy. The Chandos recording is first-rate, warm, beautifully detailed and thrillingly dynamic.
The six-part suite from Ben-Hur (1959) represents a substantial bonus, pushing the CD to a generous 80+ minute playing time, and is like the previous titles played with great conviction (although Gamba's tempo in the closing Parade of the Charioteers is too high for comfort). Arguably, a full-length recording of the Thief of Bagdad would have been preferable, as we have several readings of Ben-Hur already, including the 5-disc complete soundtrack set and the riveting recording of a large selection conducted by the composer for Decca's Phase 4 in the late 1970s. But, even so, it's always great to (re)hear one of Rózsa's finest moments in a superbly crafted new recording.
Maestro Gamba and the BBC Philharmonic have been covering the "serious" orchestral music of Miklós Rózsa with success, yet this small selection of film music can easily stand on its own. And now if somebody could convince Chandos to get this team in the studio to record some of Rózsa's best film scores full-length. Strongly recommended.
Copyright © 2014, Marc Haegeman