CD Review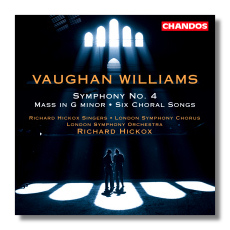 Symphony #4
Mass in G minor
Six Choral Songs "Six Songs to be Sung in Time of War"
Richard Hickox Singers
London Symphony Chorus & Orchestra/Richard Hickox
Chandos CHAN9984 68m DDD
Summary for the Busy Executive: Looking for peace. Stunning performances.
Unfortunately, Richard Hickox died before completing his Vaughan Williams symphonic cycle. He missed numbers 7 and 9. The Symphony #4, though hardly conventional, nevertheless lies closest to mainstream symphonies and consequently has received more recordings from conductors who don't to some extent specialize in British music. You can currently choose from among Berglund, Haitink, Mitropoulos, and Stokowski. Even Leonard Bernstein recorded this, once upon a time. Nevertheless, to me Hickox competes mainly with Boult, Daniel, and the composer himself. Boult on EMI for me remains the benchmark. The question comes down to: if you have Boult, do you need Hickox? I'll give my opinion later on.
Hickox, I believe, has thoroughly rethought this score. A traditional view has sprung up, rooted in misinformation and wishful thinking, that in this symphony, Vaughan Williams warned against and prophesied World War II – which would have been a neat trick, since he completed it in 1934. Symphony #5 (1938-1943) became his vision of piece and the Symphony #6 (1944-47) the nightmare of nuclear holocaust. Boult advocated this view. The composer himself bristled when people brought it up, saying "It never seems to occur to people that a man might just want to write a piece of music." Certainly, nobody at the time of its première saw Hitler in the Fourth Symphony. Vaughan Williams remarked in a letter that he had begun the score after reading an article on the modern symphony. Recent scholarship has tracked this article down, and it does give the broad features of the work. Still other writers have drawn out neat parallels to Beethoven, particularly to the Fifth and the Ninth Symphonies.
On the other hand, we often feel that music so powerful must mean something. In a certain sense, I think Boult was right. But there are many different kinds of war, including the battles that rage within us. Indeed, some of the composer's friends considered the Fourth Symphony to some extent the composer's self-portrait (in a "poisonous temper").
Boult's view tends to dominate the recordings. Consequently, we get massive blocks of sound and great tragedy, but also a certain awkwardness of movement. Paul Daniel's reading on Naxos counters this. Hickox, however, scrubs the score's face with good, strong soap. For one thing, his tempi in the first movement are just about breathless. This at least initially surprised me. Where Boult has the opening dissonance (the composer joked that he "cribbed" it from Beethoven's Ninth) grinding like massive tectonic plates, Hickox trims the fat and gives you something more lithe. In Boultian readings, the first movement especially lurches from one idea to the next. In Hickox's, it proceeds coherently overall, although with plenty of rhythmic zigs and zags. Hickox's second movement, an eerily beautiful slow march, is rich in poetry. The scherzo, with its punctuation of what sounds like brief, strong gusts of wind, comes off as well as anybody's. However, the transition to the fourth movement (VW's take on the similar passage in the Beethoven Fifth) outdoes every other account. The fourth movement with its "fugal epilogue" seems to me as where Hickox falters a bit. Energy it certainly has, but you follow the counterpoint and the extremely close motific argument with difficulty. Nevertheless, the current head of the line, this recording represents a milestone, in that it allows you to glimpse the potential interpretive range of VW's symphonies. Boult, as fine as he is, shouldn't remain the chief game in town.
I first heard the Mass in g (1922) on an old EMI/Angel LP (never seen a CD) with the Roger Wagner Chorale (coupled with a powerful Bach Cantata #4). I imprinted on this one. Subsequent accounts, especially by English choirs, have struck me as too "pi." I get a real American energy in Wagner's account, which treats the music less reverently and enhances it considerably. For me, this work stands as one of the great choral pieces of all time, inviting and surviving comparisons with the masses of Byrd and Taverner. It pays homage to those scores while remaining a Modern work. It shares a lot in mood and in conception with the Tallis Fantasia (1910, rev. 1919). The choir, like the string orchestra, splits into two choirs, with a quartet of soloists. The layout significantly differs from the Fantasia only in its lack of a "semi-chorus," which wouldn't have made much of a difference. A semi-chorus sounds like half a chorus anyway. At any rate, the arrangement allows for a very rich sound, antiphony, and strong, dramatic contrasts between fullness and intimacy. Vaughan Williams sets everything, including the notoriously difficult Credo, and pulls off one little masterpiece after another: an other-worldly Kyrie; a majestic Gloria; an energetic and kaleidoscopic Credo – martial and meditative – capped by a lively "et vitam venturi" fugato; a Sanctus where you can practically see the censers swaying; a noble Benedictus; two different Hosannas; the passionate cry for mercy of the Agnus Dei, with a prayer for peace that ascends into heaven, and the topper of the opening Kyrie motive on the final "pacem."
Hickox again has given us the best available account of this choral summit. He scores over his fellow Englishmen – Willcocks, Best, Higginbottom, Cleobury, Darlington, Edison – because like Roger Wagner he's alert to Vaughan Williams's liveliness of rhythm. Timothy Brown on Naxos and Norman Mackenzie on Telarc do extremely well in this regard, but the choirs don't match the tone, subtlety, flexibility, and clarity of Hickox's Singers. They have mastered the choral basics: blend, tone, diction, and ensemble. They give the impression that they can do whatever Hickox asks of them. Most importantly, the music seems to flow from them, rather than to have been drilled into them.
The 6 Choral Songs come from 1939. You might consider them Vaughan Williams's practical war work. They were designed for amateurs and to be played all over. Everybody sings the melody. A piano accompaniment belonged to the composer's original conception, although he orchestrated the score. The texts – "To be Sung in Time of War" – all come from Shelley (culled with the help of poet Ursula Wood, who became VW's second wife) and all are really hymns to peace. This probably isn't top-drawer Vaughan Williams, but amateurs need music of high quality, too, and the songs superbly filled the need of the time. Throughout his life, the composer carried a vision of the entire musical life of his country – not just concert halls and opera houses, but the parish church and the amateur singing societies. In a time of war, he gave people tunes they can sing which speak to the best in us.
Chandos's customary fabulous engineering results in a sound both rich and clear. It sets off these performances like jewels.
Copyright © 2011, Steve Schwartz