Related Links
Recommended Links

Site News
CD Review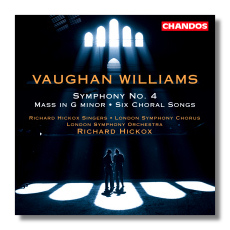 Symphony #4
Mass in G minor
Six Choral Songs "Six Songs to be Sung in Time of War"
Richard Hickox Singers
London Symphony Chorus & Orchestra/Richard Hickox
Chandos CHAN9984 68m DDD
This is definitely one of the best versions of Vaughan Williams' strangely enigmatic Fourth Symphony. I compared to the composer's own trailblazing recording previously available on Dutton and I can only say that Hickox comes up trumps with the added benefit of vastly superior sound. There is an angst and passion about the symphony that is quite superbly captured by Hickox who understands the composer's idiom almost perfectly. When compared to Boult, Previn or Handley, Hickox is an extra gear ahead except perhaps the excellent Handley which continues to be a viable alternative at mid price.
The couplings are also pretty much desirable, an energetic and suitably constructed Mass in G minor and the splendidly patriotic "Six Songs to be Sung in Time of War", this is Vaughan Williams at his pompous best. The Chandos recording is crystal clear and if you are collecting this wonderful cycle then I wouldn't have any qualms in urging you to acquire this splendid instalment in what is fast appearing to be the definite Vaughan Williams symphonic canon.
Copyright © 2002, Gerald Fenech