Related Links
Recommended Links

Site News
CD Review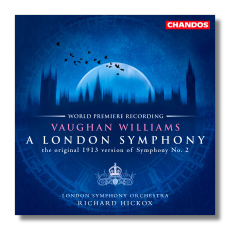 Symphony #2 "London"
(Original 1913 version)
Symphony #2 "London" (1913)
George Butterworth: The Banks of Green Willow
London Symphony Orchestra/Richard Hickox
Chandos CHAN9902 68m DDD
It is quite inconceivable to note that Vaughan Williams suppressed his 1913 version of the "London" for on first hearing, this is a triumph of orchestration and composition. Although the trimmed down later version makes more symphonic sense, there is much beautiful music that is missed especially in the epic final movement that lasts almost 20 minutes. Hickox is without doubt, enthused by these unexplored pages and he lends a breadth and nobility to the score that few could better.
The opening Lento is deeply mysterious with the subtle London Symphony strings creating an atmosphere of palpable tension that then explodes into an Allegro risoluto of characteristic bustle that depicts London in all its pre war bluster. The Lento movement that follows is also quite long, at around 16 minutes, but you certainly don't feel it drags at all, rather the excised parts seem to have been there all the time! The Scherzo is also very inventive with changes of pace evident as the Allegro vivace gives way to an Andantino of serene beauty. The epic Finale changes tempi almost six times and could seem rather overlong on first listen, but the concluding pages are an ample reward for waiting as they contain some of the most awe-inspiring music Vaughan Williams ever wrote, almost akin to the spiritual loveliness of the Fifth.
Butterworth's short idyll, "The Banks of Green Willow"makes a perfect Prélude to this epic hour-long symphony. Hickox takes all in his stride and the whole project is indeed commendable. As usual Chandos has turned out a crystal clear recording that expands and retracts at leisure, one of the best engineering feats of the year for my money! Highly recommended and a very important issue for the English music enthusiast.
Copyright © 2001, Gerald Fenech