CD Review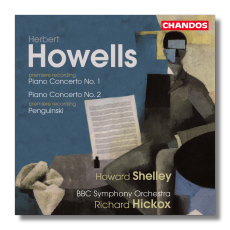 Piano Concertos
Concerto for Piano #1 in C minor, Op. 4 (ed. Rutter)
Concerto for Piano #2 in C Major, Op. 39
Penguinski
Howard Shelley, piano
BBC Symphony Orchestra/Richard Hickox
Chandos CHAN9874 70:52
Summary for the Busy Executive: Storming the heavens, pining for the country.
Today, we think of Herbert Howells as a choral composer, particularly of music for the Anglican Church. Many rank him as pre-eminent in this field. However, we tend to put such composers in the category of Minor, mainly because we have assimilated a hierarchy of genres, actually rather recent. Up through Bach, choral and church music dominated. As the Enlightenment proceeded, instrumental forms and opera (secular rather than sacred drama) came to the fore. So we in effect give Howells an affectionate pat on the head. Nevertheless, Howells wrote in most instrumental forms. He received thorough training under Charles Villiers Stanford, a brilliant pedagogue, the teacher of Bax, Vaughan Williams, Holst, Ireland, and a host of other British lights. Howells impressed Stanford, a bit of an ogre with his pupils, who called him his "son in music." However, Howells did not content himself with Stanford's idiom. At 18, he heard the première in Gloucester Cathedral of Vaughan Williams's Fantasia on a Theme by Thomas Tallis (and later, the Pastoral Symphony), and it set him in new directions. However, he never rested in imitating Vaughan Williams's pastoralism, although he was strongly attached to his native rural Gloucester. Indeed, he opened himself up to many other influences – Rachmaninoff, Ravel, and Stravinsky among them. Nevertheless, there always remained a core of something personal, sensuous and searching at the same time.
Still the number of choral works far outstrips his instrumental. We can attribute this partly to his severe self-criticism and partly to his sensitivity to the criticism of others. Critical reaction to the second piano concerto sent him into a creative crisis for about ten years. He kept a lot of music in his drawer until his friends badgered him to publish. He withdrew many works from publication and, I suspect, destroyed more than a few.
Howells wrote the first piano concerto (1913) either while he was still a Stanford pupil or just after. Stanford himself conducted the première with Howells's Royal College of Music classmate Arthur Benjamin as soloist. This recording is a première and probably the first performance in decades of the score. For one thing, somehow the score lost its final measures. John Rutter fortunately found Howells's own detailed description of the ending and thus found it relatively easy to complete. Far more worrisome, however, were all the errors he found in the score. That made up most of his work.
One can see why Stanford thought so highly of the young man. The concerto, an epic Romantic outpouring, understandably has echoes of the teacher. But one also hears Rachmaninoff and Ravel, somewhat undigested, as well as a startling near-quote from Vaughan Williams's Tallis Fantasia. The first movement is big and dramatic, with piano writing (and sometimes bits) from the names above as well as from Liszt and Chopin. It takes a considerable pianist to plow through all this. Despite all the echoes and obvious borrowings, its sincerity carries it through.
Very often, the individuality of a young composer emerges in slow movements, but not here. The Chopinisms and Lisztiana become even more pronounced, but again, it doesn't seem to matter. Howells's rhetorical instincts cross the line into poetry. The second movement begins in Celtic darkness and about halfway, the light suddenly breaks through, to stunning effect. This leads to a relaxation and another build, followed by yet another winding down and a transition to opening theme of the finale, which follows without a break. The piano figurations grow even more complex than before. The movement assumes the characteristics of both scherzo and grand march. Rachmaninoff comes back in a big way, especially the last movement of the Russian's Piano Concerto #2. Howells actually offers a version of Rachmaninoff's "signature" at the very end. Howells falls into a common trap for young composers by trying to stuff in too much, thus blurring the movement's architecture. Practically, this means that you may have trouble keeping straight which theme is which. Nevertheless, a composer shouldn't complain of a surplus of invention and ideas. To put it bluntly, the finale is a rouser, despite its diffuseness.
The 1925 Piano Concerto #2 created what passed in England for a scandal and, as I've mentioned, plunged Howells into a creative crisis. At the conclusion of its première, Robert Lorenz, critic for The Musical Times, got up from his seat and announced, "Thank God, that's over!" Most other musical critics didn't know what to make of the work, and the thin-skinned Howells withdrew it. At first listen, it's hard to know what perplexed them. This is, after all, a very straightforward work, certainly far less dissonant and avant-garde than Bartók's aggressive First Piano Concerto or even Vaughan Williams's concerto, both of the following year. However, Britain hadn't heard a lot of avant-garde European work. Early Stravinsky was just coming in, with Petrushka especially popular. Furthermore, Howells's work is incredibly subtle. According to Paul Spicer, it's unlikely the pianist (Harold Samuel) or the conductor (Malcolm Sargent) understood it. For one thing, Howells bases the entire concerto on two pentatonic themes, ingeniously varied, and for another, the structure – although akin to a three-movement concerto – can also be seen as a large exposition-development-recapitulation. Indeed, Howells described it that way himself. At any rate, if a conductor doesn't take care, the concerto might strike a listener like the same theme repeated over and over. Howells has expanded his harmonies, taking from pre-Twenties Ravel. He also shows the influence of Vaughan Williams's Pastoral Symphony (1921), not so much in idiom, but in the ability to turn to folk-like pentatonicism to build large structures. The general mood runs more to the meditative than to the martial, although it certainly has its big moments. It's a gem of a concerto, but probably not one that many virtuosi will take up due to its lack of flash.
Penguinski is a bauble. Howells conceived it as a micro-ballet (4 minutes) for a visit by the Prince of Wales (the notorious one) to the RCM. I'm sure the Prince would have liked better a nice, peppy foxtrot. The ballet pokes light fun at the Ballets Russes and at Stravinsky, whose star in London shone brightly at the time (1933). Satire at its best because of the composer's obvious affection for his target, it's Petrushka through a humorous English filter. Howells sets the penguins (learning to dance) to Stravinskian ostinatos and occasionally "almost-quotes" actual themes. The four minutes brim over with energy and unabashed delight.
Howard Shelley, a hero in the propagation of British piano music, puts his big tone and subtle phrasing to good effect in the concerti. I suspect he makes the first concerto better than even the composer knew. In the second, he seems to be channeling the thoughts of Howells himself. The first concerto has a tendency to fall apart. Shelley doesn't allow you to think about it, moving surely from one idea to the next. The second, as I said, might fall into monotony. However, both Shelley and conductor Richard Hickox have shaped the work beautifully. Indeed, Hickox does a splendid job throughout. His Penguinski – after all, a kind of throwaway occasional piece – shows tremendous care and puts a big grin on my puss.
Copyright © 2011, Steve Schwartz.