CD Review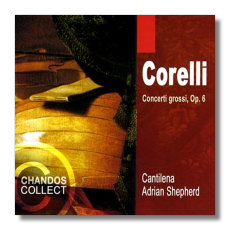 12 Concerto Grossi, Op. 6
Cantilena/Adrian Shepherd
Chandos Collect CHAN6663(2) DDD 2CDs: 71:47, 72:11
This recording used to be on three full-priced CDs, but now it's a "twofer" – a substantial savings. As a result, Cantilena's Corelli now becomes a top pick.
Cantilena is a modern instruments ensemble that specializes in Baroque and Classical music. Eight violins, two violas, two cellos, one double bass, and a harpsichord are used on this recording. Several competing versions (for example, Ensemble 415 on Harmonia Mundi) use a much larger complement of strings. In contrast, other versions use an even smaller one; Europa Galante (also on Harmonia Mundi) uses eight musicians. What gives Cantilena a larger sound than one might expect is not just the instruments, but the manner in which they are played; generous vibrato increases the subjective size of the sound. The warm recording venue – Henry Wood Hall in Glasgow – also has an impact. Modern scholarship suggests, by the way, that Corelli was not averse to giving his music the grand treatment.
Cantilena plays this winning music warmly but without romanticizing it. Tempos are not excessive in either direction, and dance movements are given nicely sprung rhythms. The more acerbic timbres of original instruments ensembles can make the music seem more adventurous than it does here, but Cantilena's rounded, attractive sound is self-justifying.
Each of these Concerti grossi (including Number 8, the famous "Christmas Concerto") is essentially a concerto for two violins (with continuo) and orchestra. Each of Cantilena's eight violinists gets solo opportunities, so I guess one could say that Cantilena is an egalitarian ensemble. Adrian Shepherd leads from the cello.
If you already have I Musici's recordings of these works, then Cantilena probably won't tell you anything you didn't already know. If, however, you have an original instruments version, consider Cantilena as an inexpensive complement that is still within the stylistic consensus, in spite of its more modern sound.
Copyright © 2002, Raymond Tuttle