Related Links
Recommended Links

Site News
CD Review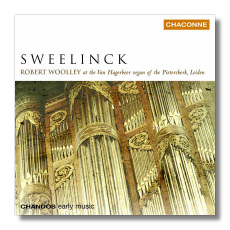 Organ Works
Toccata a3 D31/L24
Psalm 140 D41/A12
Hexachord Fantasia F1 D7/L5
Nun freut euch, lieben Christen gmein, D38/A7
Echo Fantasia d3D5/L11
Allien Gott in der Hoh sei Her D32/A1
Fantasia 'met bindingen', F3 D8/L27
Mein junges Leben hat ein End, D48/N6
Toccata a1,D29/L17
Erbarm dich mein, o Herre Gott D36/A5
Toccata G1,D23/L18
Psalm 116, D40A11
Fantasia, g2, D12/L8
Robert Woolley, organ
Chandos Chaconne CHAN0701 73m DDD
Sweelinck seems to be all the rage these days as I have just reviewed a stunning double CD set on Hyperion with Christopher Herrick that is surely a top recommendation. This new release by Chandos limits itself to a single disc but is no less desirable.
Robert Wolley is a brilliant organist and if he is not perhaps as mercurial as the equally impressive Herrick, he does bring an informed quality to these beautiful pieces. These are mainly short works with the two fantasias clocking in at just over eight minutes and 'Erbarm dich mein o Herre Gott', the longest at ten minutes.
Woolley has an edge with the splendid Van Hagerbeer Organ, a restored instrument that goes back to 1645 and sounds quite appropriate for Sweelinck's music. I still retain a marked preference for Piet Kee's memorable Sweelinck's recordings on the Weingarten organ but this is also a wonderfully presented record.
Collectors will be at the horns of a dilemma whether to choose the double CD set on Hyperion that does include some duplication of this release. Obviously it rather boils down on to how much Sweelinck you want in your collection!
Copyright © 2003, Gerald Fenech