CD Review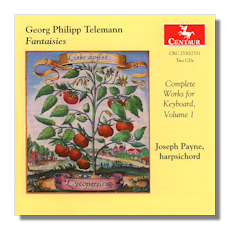 Complete Works for Keyboard, Volume I
36 Fantaisies for Harpsichord, TWV 33/P 26
Joseph Payne, harpsichord
Centaur CRC2530/2531
The late Joseph Payne was respected for his performances and recordings of Baroque keyboard works; indeed his set, also on Centaur, of the complete keyboard works of Johann Pachelbel was well received here on Classical Net last year. Just as fascinating, varied and full of life and musical invention are the complete works for keyboard by Georg Philipp Telemann, Volume 1 of which project is here reviewed.
It's hard to overestimate Telemann's stature as a musician in the eighteenth century. The sheer quantity of his output is only a part of the story; the range and beauty of his creativity are still not widely appreciated by many music lovers, who really should know better. The quality of Payne's playing on this double CD will expose those otherwise unaware of the music to its strengths and perhaps help in more precisely focusing current assessments of Telemann.
The composer published a number of sets of harpsichord music, notably those arranged as sonatas in suites. In addition to a set of a dozen marches issued in 1730 as Musique heroique, there is a set of chorales and variations six years later, some easy fugues obviously intended for teaching purposes, and these Fantasias. They sit on the cusp of the development of the new style galant without the grandeur and range of, say, Bach's toccatas. Intended for private and amateur performance, these three dozen pieces nevertheless have a compelling logic of their own.
Published by Telemann himself in 1732 in Hamburg, the Fantasias – grouped in three sets of a dozen – show an elegance and refinement that must have pleased their first players… likely to have been accomplished but neither public nor professional musicians. This is not to say that they are trivial or banal pieces. They show drama, emotion, exuberance and containment in equal parts. There is humor too: the B Major (number 11 of the first dozen, for example [CD.1 tr.11]) is elevated above the quirky; yet it's determined to show it has a "mind of its own". Similarly pathos and reflection… the E Flat Major (the 12th of the same set, [CD.1 tr.12]) and indeed the quieter, opening C minor first of the second dozen [CD.1 tr.13]) are in evidence both as foils to the "springier" pieces, and as exercises in their own rights.
Not that this music is mere material for "practice"; that same piece (and those that follow in the second dozen) is subtle enough in tempo, phrasing and structure to represent a challenge to an accomplished player. Payne, of course, is well up to every subtlety and nuance. Yet has absorbed the essence of the music sufficiently well as to be able to make its progression convincing, enthralling and compelling. The quality of the sound of his instrument, by Hubbard and Broekman (1999) after H.A. Hass (1723) is excellent and recorded neither too closely nor roomily to do anything other than direct our attention onto Telemann's musical ideas from start to finish.
The Fantasias of the first and third dozens [CD.1 trs.1-12; CD.2 trs.7-18] contain three movements each, usually fast-slow-fast; those of the second dozen [CD.1 trs.13-18; CD.2 trs.1-6] repeat the usually slow movement as the third. The result is a four movement pattern, slow-fast-slow-fast. In general the first and third Dozens acknowledge the Italian and the second Dozen the new French styles. Although the influence of the dance suite is evident, the Fantasias are essentially bipartite in construction.
And it's Payne's achievement, if not to have tied them all together, to present these varied Fantasias as an entity; yet with something special and distinctive about each one. His touch is light and sure, perceptive (listen to the close of the B minor, the second dozen's third [CD.1 tr.15], for example) yet authoritative. He achieves an almost perfect – certainly a very commanding – approach to blending melody and texture on the harpsichord, something which was clearly vital for Telemann. Yet without overdoing it.
If you have an as yet rather vague awareness of the composer's work in this area and/or want to hear high to late Baroque solo keyboard playing that concerned itself with the musical message as much as the genre, this makes an excellent place to start. Payne is incisive and expressive. Above all, his exposure of the at times naïve exploration of instrumentality, melody and texture on which Telemann was engaged is genuine and undemonstrative. When you couple this interpretative strength with great technical ability and the specific world which these Fantasias inhabit (which they create, almost), you have a set to treasure.
Copyright © 2010, Mark Sealey.