CD Review
Stokowski and Opera
Risë Stevens, mezzo-soprano
Jan Peerce, tenor
Robert Merrill, baritone
* Licia Albanese, soprano
Robert Shaw Chorale
NBC Symphony Orchestra/Leopold Stokowski
* Leopold Stokowski Symphony Orchestra/Leopold Stokowski
Cala CACD0540
Some years ago I had the opportunity to talk with Sylvan Levin, who had been pianist and Assistant Conductor under Stokowski in Philadelphia. In fact, Sylvan was closely involved with Stokowski's U.S. première of Berg's Wozzeck. I have a photo from Stokowski to Sylvan from around that time where The Maestro signs "From the Maestrino." I asked Sylvan if he thought Stokowski ever had any regrets and he told me that Stokowski wished he had been able to conduct more opera. Listening to discs like this makes me agree with the American Record Guide critic James Norwood, "One would like him to conduct a full Tchaikovsky opera for the phonograph; I believe it would be a major operatic achievement." (From the notes with this disc)
Well, if you can't have a whole loaf of bread a half loaf will do and this is an excellent slice. I don't consider myself a vocal expert but I do know when I hear a voice that conveys the part and Risë Stevens is an excellent Delilah! As pointed out in the notes she sang the role at the Metropolitan Opera House in 1940, '49, '53 and '59. In a recording the artist has to convey the role but is limited to just the voice and so that voice is all-important. Ms. Stevens rises (I couldn't resist) to the task with passing colors. Her voice is earthy and sensual. I would love to hear her Carmen, which was called one of her greatest achievements at the Met.
Undoubtedly Risë Stevens was the reason for this recording. RCA probably realized they had a 'hit' on their hands. Gramophone's reviewer put it, "… the whole idea of – and the lion's share – of the record is a generous helping of Miss Steven's Delilah which I have no doubt looked seductive and often sounds so…" Seeing her photo in this releases insert certainly seconds that.
Whilst Stokowski was not known as an opera conductor RCA's decision to put him at the helm was no mistake. From the same Gramophone article the reviewer opines, "Stokowski is very much the virtuoso conductor in the Bacchanale, which is finely recorded and played."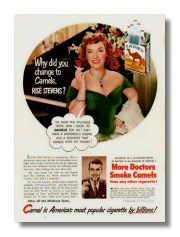 This release is not just for Stokowski fans, but also for those of Risë Stevens. An excellent release!
Whilst researching Risë Stevens on the Net I came across the image to the right (Camel Cigarettes 1949 Ad - Risë Stevens Opera Star - Sold).
This paper advertisement, from a 1949 magazine, is for R.J Reynolds Tobacco Co. And highlights Camel Cigarettes. The ad shows opera star Risë Stevens.
Copyright © 2005, Robert Stumpf II