CD Review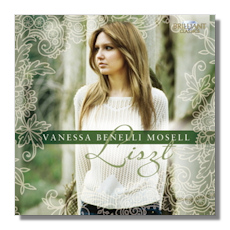 Valse impromptu, S. 213
Capriccio alla turca on Themes from Beethoven's Die Ruinen von Athen, S. 388
La leggierezza Etude de Concert in F minor, S. 144 #2
Hungarian Rhapsodies S. 244:
No. 6 in D Flat Major
No. 10 in E Major
No. 11 in A minor
No. 12 in C Sharp minor
Liebesträume in A Flat Major, S. 541
Galop Russe after Bulhakov, S. 478i
La Danza from Rossini's "Soirées musicales", S. 424
Grand Galop Chromatique, S. 219
Vanessa Benelli Mosell, piano
Brilliant Classics 94357 65:09
Maurizio Pollini – move over! Italian pianist Vanessa Benelli Mosell (b. 1987), although a prizewinner in a few important competitions, apparently hasn't won a major competition outright. That's rather amazing because she possesses a rare talent, but this kind of talent doesn't need a first prize in Moscow or Warsaw or Texas to ride to fame! This is her second recording. I missed her first, which contained sonatas by Prokofiev, Haydn and Scriabin, and Liszt's Rhapsodie Espagnole (Brilliant Classics 94209). I did manage to hear excerpts from that recital disc and was greatly impressed.
On this new disc Benelli Mosell plays with an all-encompassing technique and has the interpretive acumen of a seasoned master, the latter quality showing through despite her choice of mostly lighter and virtuosic repertory here. Iconic French pianist Pascal Rogé, with whom Benelli Mosell debuted in duo-piano repertory at age eleven, described her as the "most natural talent I have ever encountered in my entire life…" Listening to this disc, it's easy to see why he heaped such lavish praise on her.
Benelli Mosell captures the charm and elegance of the Chopinesque Valse Impromptu, giving the piece a lightness and infectious effervescence in her phrasing and well-judged dynamics. The Capriccio alla Turca is a virtuosic takeoff on themes from Beethoven's Ruins of Athens. It's a colorful piece, full of high spirits and colorful dazzle, and Benelli Mosell shortchanges no aspect of the work's glitter and virtuosity, while showing that such light music can actually offer substantive enjoyment.
La Leggierezza is another work that, while sounding like Liszt, has much of the sound world of Chopin about it. Benelli Mosell deftly points up the kinship between the two composers' styles, while storming the heights in the middle section. The four Hungarian Rhapsodies here sound far less episodic than is often the case, and more like the delightful and well-crafted folk-inspired showpieces that Liszt intended. For sheer thrills try the final section of #6, where Benelli Mosell plays those rapid-fire repeating octaves with such precision, lightness and awesome speed.
She delivers Liebestraum #3 with utter conviction, not in any way spurning the obviously sentimental character of the music. The last three pieces are light and lively works, with the Rossini-sourced La Danza and the Grand Galop Chromatique showcasing Benelli Mosell's considerable technical skills. While this Liszt recital features little music of depth, those interested in the composer's lighter and more colorful works will find this disc a real delight. True, the fare offered here is just the kind that Liszt detractors cite to make their case against the composer, but the music is unpretentious, imaginative and brimming with energy and brilliant color. The sound reproduction is clear and powerful.
Copyright © 2013, Robert Cummings