CD Review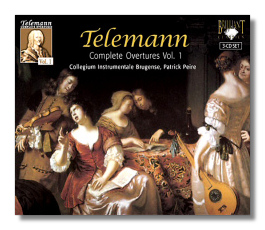 Complete Overtures, Volume 1
Overture in D Major, TWV 55:D18
Overture in G Major, TWV 55:G10 "Burlesque de Quixotte"
Overture in C minor, TWV 55:c2
Overture in D Major, TWV 55:D4
Overture in F Major, TWV 55:F11 "Alster Ouvertüre"
Overture in B Flat Major, TWV 55:B5 "Völker Ouvertüre"
Overture in D minor,TWV 55:d2
Overture in B Flat Major, TWV 55:B7
Overture in A minor, TWV 55:a4
Overture in A Major, TWV 55:A4
Overture in D Major, TWV 55:D23
Overture des Nations anciens et modernes in G, TWV 55:G4
Collegium Instrumentale Brugense/Patrick Peire
Brilliant Classics 93041 DDD 3CDs: 72:09, 71:02, 70:16
Going against the tide, as it were, members of the Collegium Instrumentale Brugense play on modern instruments, even though this chamber ensemble is most famous for its performances and recordings of music from the Baroque era. This ensemble was founded in 1970 by Patrick Peire, who was only in his mid-twenties at the time. According to Brilliant Classics' notes, the Collegium Instrumentale Brugense was the first Belgian classical ensemble to be nominated for a Grammy award (for their recording of Rossini's Tancredi on Naxos). Most of their numerous recordings have been on the Eufoda label. It is not clear if the present three-CD set was licensed from Eufoda, or if it is in original recording for Brilliant Classics. The recent recording dates (late 2004 through late 2005) suggest the latter.
During Telemann's time, "overture" was just another way of saying "suite." (Think of Bach's Overture in the French Style.) To confuse matters, however, most overtures open with an "ouverture," and the 12 overtures on this CD are no exception. Telemann composed well over one hundred such works, and these have been collected under the designation "TWV 55." If Peire and the Collegium Instrumentale Brugense truly intend to record all of them, they have a long way to go! At this rate, the project will extend to at least 25-30 individual CDs.
Until recently, Telemann was derided for being too prolific and not interesting enough, a charge once leveled at Vivaldi. Telemann might not have possessed the Venetian master's gift for melody and drama, nor Johann Sebastian Bach's depth and humanity, but he was far from a second-rate talent. As much as Bach, and perhaps even more so, he was cognizant of the music being written elsewhere in Europe, and he incorporated different national styles into his own work. There are examples of this in the present collection. The Overture des Nations anciens et modernes presents music in the German, Swedish, and Danish styles – not just contemporary with Telemann, but older national styles as well. The "Völker Ouvertüre" includes movements devoted to Turks, Muscovites, Portuguese, and the Swiss. Admittedly, within constraints of Baroque style, these allusions are subtle, but they are far more common in Telemann than they are in Bach.
One also finds more program music – albeit in a vestigial form – in Telemann than in Bach. Some of it is very fanciful. In the "Alster Ouvertüre," there is a movement titled "The Concertizing Frogs and Crows." (In it, the harmonies are comically harsh.) Another one of the overtures is devoted to Don Quixote – not as the pathetic "Knight of the Woeful Countenance" who has gained currency more recently, but as a figure of fun and gentle ridicule. One of the movements depicts first the galloping of his nag Rosinante, and then that of Sancho Panza's donkey!
The performances on these CDs are bright, accurate, and easy to enjoy. By playing on modern instruments, the members of the Collegium Instrumentale Brugense are less susceptible to the problems with tone and intonation that sometimes challenge period instrument performers. Also, they play at a higher pitch than period instrument ensembles. (Generally speaking, "middle C" is higher today than it was 300 years ago.) This gives the music a more brilliant sound. Even though modern instruments are used, the Collegium Instrumentale Brugense still plays with an appreciation of Baroque style; this is not "Romanticized" Telemann by any means! On the other hand, ensembles such as Musica Antiqua Köln (on DG Archiv) and Musica Alta Ripa (MD&G) play this repertoire with more zest and personality (some might call it "exaggeration" instead), which makes Telemann's creativity pretty hard to miss. Still, the selections on these three discs have been cannily assembled to give listeners the most varied experience. Some of the overtures are for strings and basso continuo only, while others add one, two, or more solo instruments. For example, the aforementioned "Alster Ouvertüre" is scored not just for strings and basso continuo, but also for four horns, two oboes, and bassoon. The listener's ears will not get tired.
The engineering is good. The conductor's booklet note is too short to be of much use, however. (More space is devoted to the performers than to the music itself.) At the low Brilliant Classics price, one can make allowances, I suppose.
Copyright © 2007, Raymond Tuttle