CD Review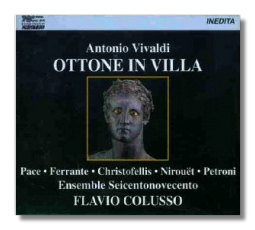 Ottone in Villa
Cast:

Cleonilla - Patrizia Pace (soprano)
Tullia - Anna Maria Ferrante (soprano)
Caio - Aris Cristofeles (male soprano)
Ottone - Jean Nirouët (counter-tenor)
Decio - Luigi Petroni (tenor)

Ensemble Seicentonovecento/Flavio Colusso
Recorded September 1993
Bongiovanni 10016/18 3CDs
Everybody is familiar with Vivaldi's orchestral works (or at least with "The Four Seasons"), and his sacred compositions are becoming better-known, but his operas remain in relative obscurity. He claimed (in a letter of 1739) that he had written 94 of them, but fewer than half have survived, and only a handful of those are in more than fragmentary form. One of them is his first opera, Ottone in Villa, written in 1713. He was already 35 and well-known for his orchestral works when a theater in Vicenza requested something short and inexpensive to produce, appropriate to their provincial status and means. That is what they got: a three-act opera with only five characters, scored for a small orchestra, and with a minimum of stage effects. It was well-received, occasionally revived in Vicenza and elsewhere, and many of its arias were re-used by Vivaldi in later compositions.
The text was by an experienced librettist, Domenico Lalli, who adapted and abbreviated Francesco Maria Piccioli's words for a 1680 opera by Carlo Pallavicino. In doing so, he produced a mix of pastoral and heroic genres that provided a concise, effective, and often witty base for Vivaldi's work. The amoral plot is relatively straightforward: Cleonilla is loved by the gullible Roman Emperor Ottone (Otto) and by Caio, but she has fallen in love with Ostilio, who is really Tullia, Caio's rejected sweetheart in male disguise. The fifth character is Decio, the Emperor's counselor, who spends all his time giving Ottone good advice that he ignores. After the usual series of misunderstandings and contretemps, Tullio reveals herself, Ottone orders the repentant Caio to marry her, and the duplicitous Cleonilla apparently is left to go on with her seduction of Ottone.
The work conforms to the operatic conventions of the time: all the action takes place in one day, the action is advanced and emotions are shown only in recitativo secco (accompanied by basso continuo), and the arias – all in da capo form – are designed to reflect contrasting moods and intentions rather than character development or the description of events. The only ensemble singing is in a brief final chorus by the soloists; the arias, distributed among the five characters, are all solos with orchestral accompaniment., One episode is especially imaginative and skillfully orchestrated: an echo song, in which the final words of Caio's recitative and aria are repeated with changed meaning by Tullia in hiding. All of the vocal material is well-written, and Vivaldi's great melodic gift is displayed throughout.
In this recording. the cast, conductor, and orchestra understand the Baroque idiom and convey it effectively and with commitment. Patrizia Pace has a good clear voice and makes Cleonilla a plausible character, and while I have an aversion for falsetto voices, I mut say that Aris Cristofeles and as Caio and Jean Nirouët as Ottone are not unattractive in their roles. All the singers do a tasteful job of ornamenting the repeats in the arias, and the ensemble is crisply led by Flavio Colusso. Chandos has recently released a competing version of this opera, led by Richard Hickox, that has been well-reviewed; I haven't heard it, but I doubt that it is more satisfactory that this one. Vivaldi's later operas are more complex and musically more interesting, but Ottone in Villa offers pleasures of it own.
Copyright © 1998, Alexander J. Morin