CD Review
Vagn Holmboe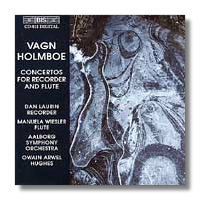 Wind Concertos
Concerto for Recorder, String Orchestra, Celesta and Vibraphone
Concerto for Flute #1
Concerto for Flute #2
Aalborg Symphony Orchestra/Owain Arwel Hughes
BIS CD-911 DDD 62:11
Vagn Holmboe (1909-2000) probably is the most important Danish composer born in the present century. Slowly, musicians and record companies are exploring his output, which contains thirteen symphonies (the Seventh is particularly fine), twenty string quartets, and numerous concertos. Like that of his earlier compatriot Carl Nielsen, his music is concise and refined; in its traditionalism, it challenges the brain more than it challenges the ears, a trait that makes it attractive to new listeners.
Holmboe is noted for what he called a "technique of metamorphosis." In this technique, musical material continuously undergoes a transformation from one state to another while retaining its essential personality. A good analogy would be water: whether it's frozen, fluid, or gas, it's still comprised of one oxygen and two hydrogen atoms.
The two flute concertos were completed in 1976 and 1982, respectively. The First, which uses both a regular and an alto flute, is the more overtly dramatic of the two. Its opening movement is a mostly uninterrupted stream of high spirits, the second movement is intense and melodic, and the finale, after an imposing introduction, gambols with subtle mischief. The Second is more pastoral, and more of a colloquy between the flute and the orchestra than the First, in which everyone tends to talk at once.
The Recorder Concerto (1974) opens with a burst of glittering magic, an effect which is echoed by the music's rapidly shifting colors. Holmboe asks the soloist to alternate between soprano, alto, and sopranino recorders over the course of eighteen minutes. In the last movement, he also asks him to sing and blow into the instrument at the same time. Throughout the concerto, bell-like tones of the celesta and the vibraphone blend bewitchingly with the breathier tones of the recorder.
The performers and recording are superb. Aalborg, a port city on Denmark's Jutland peninsula, boasts a fine symphony orchestra. Both it and its chief conductor, Owain Arwel Hughes, have a strong, ongoing relationship with Holmboe's music. (Hughes and another Danish ensemble, the Aarhus Symphony Orchestra, have recorded all the symphonies for BIS. The Seventh is on CD-573). If you're looking for something as subtle and fine as the advent of a Scandinavian spring, Holmboe might be your man.
Copyright © 1999, Raymond Tuttle