DVD Review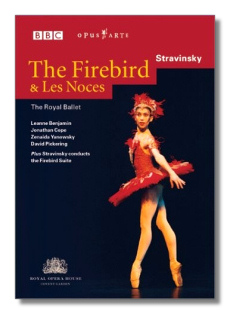 The Firebird
Les Noces
Leanne Benjamin (Firebird)
Jonathan Cope (Ivan Tsarevich)
Genesia Rosato (The Beautiful Tsarevna)
David Drew (The Immortal Kostcheï)
Zenaida Yanowsky (The Bride)
David Pickering (The Bridgegroom)
The Royal Ballet, Covent Garden
Orchestra of the Royal Opera House/John Carewe
BBC Opus Arte DVD OA0833D NTSC (OA0832D PAL) 108m
It was a brilliant idea to couple these works, as the contrast between the two of them creates sparks. Here we have the rare opportunity to revisit the work of two classic choreographers: Mikhail Fokine (The Firebird) and Bronislava Nijinska (Les Noces). Both of them recaptured old Russia, but in very different ways. Fokine's Firebird is a tale of the supernatural – fantastic and yet full of human interest. In contrast, Nijinska's Les Noces is about just plain folks – two Russian villagers, actually – getting married, but the ballet's implications are anything but quotidian.
The Firebird's tale is told not just through dance but through the face. In fact, one could remove the dancing entirely and still follow the plot. Benjamin, Cope, and Rosato don't have traditionally beautiful faces, but they do have beautiful expressions, and they create their characters out of tiny elements – a shy smile, a gesture with the wrist, an anxious look, and so on. The viewer is immediately interested in these fairy tale figures as a result. Fokine's light touch makes it easy to appreciate the ballet on several levels. On first viewing, I thought his Firebird was creepy. Next time through I frequently found myself laughing aloud – not with ridicule but with delighted sympathy. This Firebird makes me want to weep and laugh in equal measure, and any production that walks such a tightrope is worthy of attention. My only reservation is with the ballet's finale, which seems to say that the Beautiful Tsarevna has simply traded one imprisonment for another in marrying Ivan Tsarevich. Am I reading too much into Rosato's frozen looks? The standout performance is Benjamin's fluttering, fascinating Firebird, although Drew's Kostcheï is a marvel of ghoulish humor.
Firebird's expressive faces are tellingly replaced by the uniformly grave and expressionless faces in Les Noces; all the emotion comes from the next down. This is because Nijinska appears to have conceived of this ballet as a work of terror – Le Sacre du printemps updated in a Russian village. Part of the terror comes from conformity; if individual character was important in The Firebird, it is completely stifled in Les Noces. The end of the ballet resembles nothing less than Fritz Lang's Metropolis, as the corps de ballet executes its brusque gestures in synchrony, like a school of fish or termites in a nest. These characters, particularly those in the wedding party, are trapped in a ritual from which they must not deviate – not just for their good but for the good of the community. What makes Les Noces difficult to dance is that there are basically just five steps, but the permutations and combinations are, for all practical purposes, endless, and keeping them straight seems to require a robotic mind. Actually, the perfect performance of Les Noces demands a ballet company of robots, all moving in perfect unison and with blank looks on their faces. Something tells me Stravinsky and Nijinska (Vaslav Nijinsky's sister, by the way) would have approved of this. In contrast to their counterparts in The Firebird, Yanowsky and Pickering are absolutely gorgeous, with model-beautiful faces. They are the Ken and Barbie of the Russian steppes, but with their smiles wiped off for good. In the end, Les Noces is as disturbing as The Firebird is comforting.
One special feature of the DVD is a quick but interesting look at The Royal Ballet's rehearsals. The other is an interview with David Drew, not only The Firebird's Kostcheï, but a company member when Nijinska taught The Royal Ballet Les Noces in the 1960s. Drew is a wonderful raconteur in his anecdotes about what it was like to work with the bizarre choreographer, who could barely move, and whose favorite mode of communication seemed to be grunting, and a language – neither Russian nor English apparently – incomprehensible to nearly all.
Carewe's conducting is not particularly brilliant, but it is dancer-friendly. The audio and visual components of this DVD are excellent; surround sound is available for those so equipped. One small misstep on the part of BBC Opus Arte was superimposing The Firebird's plot synopsis (with stills from the production) over Stravinsky's introductory music. Surely the ballet's creators wanted this music to set the scene, not to be used as background music.
Copyright © 2003, Raymond Tuttle